Strict Standards
: Non-static method JModuleHelper::getModules() should not be called statically, assuming $this from incompatible context in
/var/www/p5523/data/www/motocycle.ru/libraries/joomla/document/html/html.php
on line
272
Strict Standards
: Non-static method JModuleHelper::_load() should not be called statically, assuming $this from incompatible context in
/var/www/p5523/data/www/motocycle.ru/libraries/joomla/application/module/helper.php
on line
88
You are here:
Strict Standards: Non-static method modBreadCrumbsHelper::getList() should not be called statically, assuming $this from incompatible context in /var/www/p5523/data/www/motocycle.ru/modules/mod_breadcrumbs/mod_breadcrumbs.php on line 21

Strict Standards: Non-static method JLoader::import() should not be called statically in /var/www/p5523/data/www/motocycle.ru/libraries/loader.php on line 186

Strict Standards: Non-static method JPathway::getInstance() should not be called statically, assuming $this from incompatible context in /var/www/p5523/data/www/motocycle.ru/libraries/joomla/application/application.php on line 697

Strict Standards: Non-static method JError::isError() should not be called statically, assuming $this from incompatible context in /var/www/p5523/data/www/motocycle.ru/libraries/joomla/application/application.php on line 698

Strict Standards: Non-static method JRoute::_() should not be called statically, assuming $this from incompatible context in /var/www/p5523/data/www/motocycle.ru/modules/mod_breadcrumbs/helper.php on line 31

Strict Standards: Non-static method JFactory::getApplication() should not be called statically, assuming $this from incompatible context in /var/www/p5523/data/www/motocycle.ru/libraries/joomla/methods.php on line 41

Strict Standards: Non-static method JFactory::getConfig() should not be called statically, assuming $this from incompatible context in /var/www/p5523/data/www/motocycle.ru/includes/application.php on line 372

Strict Standards: Non-static method JLoader::import() should not be called statically in /var/www/p5523/data/www/motocycle.ru/libraries/loader.php on line 186

Strict Standards: Non-static method JRouter::getInstance() should not be called statically, assuming $this from incompatible context in /var/www/p5523/data/www/motocycle.ru/libraries/joomla/application/application.php on line 674

Strict Standards: Non-static method JError::isError() should not be called statically, assuming $this from incompatible context in /var/www/p5523/data/www/motocycle.ru/libraries/joomla/application/application.php on line 675

Strict Standards: Non-static method JString::trim() should not be called statically in /var/www/p5523/data/www/motocycle.ru/administrator/components/com_sh404sef/sh404sef.class.php on line 484

Strict Standards: Non-static method JLoader::import() should not be called statically in /var/www/p5523/data/www/motocycle.ru/libraries/loader.php on line 186

Strict Standards: Non-static method shRouter::shGetConfig() should not be called statically in /var/www/p5523/data/www/motocycle.ru/administrator/components/com_sh404sef/sh404sef.class.php on line 1183

Strict Standards: Non-static method shRouter::shGetConfig() should not be called statically in /var/www/p5523/data/www/motocycle.ru/administrator/components/com_sh404sef/sh404sef.class.php on line 1230

Strict Standards: Non-static method JString::substr() should not be called statically in /var/www/p5523/data/www/motocycle.ru/administrator/components/com_sh404sef/sh404sef.class.php on line 1241

Strict Standards: Non-static method JFactory::getDBO() should not be called statically in /var/www/p5523/data/www/motocycle.ru/administrator/components/com_sh404sef/sh404sef.class.php on line 1250

Strict Standards: Non-static method shRouter::shGetConfig() should not be called statically in /var/www/p5523/data/www/motocycle.ru/administrator/components/com_sh404sef/sh404sef.class.php on line 1183

Strict Standards: Non-static method JString::substr() should not be called statically in /var/www/p5523/data/www/motocycle.ru/administrator/components/com_sh404sef/sh404sef.class.php on line 1273

Strict Standards: Non-static method JString::ltrim() should not be called statically in /var/www/p5523/data/www/motocycle.ru/administrator/components/com_sh404sef/sh404sef.class.php on line 1307

Strict Standards: Non-static method JLoader::import() should not be called statically in /var/www/p5523/data/www/motocycle.ru/libraries/loader.php on line 186

Strict Standards: Non-static method JString::substr() should not be called statically in /var/www/p5523/data/www/motocycle.ru/administrator/components/com_sh404sef/sh404sef.class.php on line 1312

Strict Standards: Non-static method JFactory::getDBO() should not be called statically in /var/www/p5523/data/www/motocycle.ru/administrator/components/com_sh404sef/sh404sef.class.php on line 980

Strict Standards: Non-static method JString::substr() should not be called statically in /var/www/p5523/data/www/motocycle.ru/administrator/components/com_sh404sef/sh404sef.class.php on line 1357

Strict Standards: Non-static method JString::substr() should not be called statically in /var/www/p5523/data/www/motocycle.ru/administrator/components/com_sh404sef/sh404sef.class.php on line 1370

Strict Standards: Non-static method JFactory::getDBO() should not be called statically in /var/www/p5523/data/www/motocycle.ru/administrator/components/com_sh404sef/sh404sef.class.php on line 980

Strict Standards: Non-static method JString::substr() should not be called statically, assuming $this from incompatible context in /var/www/p5523/data/www/motocycle.ru/administrator/components/com_sh404sef/sh_Net_URL.class.php on line 302

Strict Standards: Non-static method JString::substr() should not be called statically, assuming $this from incompatible context in /var/www/p5523/data/www/motocycle.ru/administrator/components/com_sh404sef/sh_Net_URL.class.php on line 303

Strict Standards: Non-static method JString::substr() should not be called statically, assuming $this from incompatible context in /var/www/p5523/data/www/motocycle.ru/administrator/components/com_sh404sef/sh_Net_URL.class.php on line 308

Strict Standards: Non-static method JString::substr() should not be called statically, assuming $this from incompatible context in /var/www/p5523/data/www/motocycle.ru/administrator/components/com_sh404sef/sh_Net_URL.class.php on line 302

Strict Standards: Non-static method JString::substr() should not be called statically, assuming $this from incompatible context in /var/www/p5523/data/www/motocycle.ru/administrator/components/com_sh404sef/sh_Net_URL.class.php on line 303

Strict Standards: Non-static method JString::substr() should not be called statically, assuming $this from incompatible context in /var/www/p5523/data/www/motocycle.ru/administrator/components/com_sh404sef/sh_Net_URL.class.php on line 308

Strict Standards: Non-static method JString::substr() should not be called statically, assuming $this from incompatible context in /var/www/p5523/data/www/motocycle.ru/administrator/components/com_sh404sef/sh_Net_URL.class.php on line 302

Strict Standards: Non-static method JString::substr() should not be called statically, assuming $this from incompatible context in /var/www/p5523/data/www/motocycle.ru/administrator/components/com_sh404sef/sh_Net_URL.class.php on line 303

Strict Standards: Non-static method JString::substr() should not be called statically, assuming $this from incompatible context in /var/www/p5523/data/www/motocycle.ru/administrator/components/com_sh404sef/sh_Net_URL.class.php on line 308

Strict Standards: Non-static method JString::substr() should not be called statically, assuming $this from incompatible context in /var/www/p5523/data/www/motocycle.ru/administrator/components/com_sh404sef/sh_Net_URL.class.php on line 302

Strict Standards: Non-static method JString::substr() should not be called statically, assuming $this from incompatible context in /var/www/p5523/data/www/motocycle.ru/administrator/components/com_sh404sef/sh_Net_URL.class.php on line 303

Strict Standards: Non-static method JString::substr() should not be called statically, assuming $this from incompatible context in /var/www/p5523/data/www/motocycle.ru/administrator/components/com_sh404sef/sh_Net_URL.class.php on line 308

Strict Standards: Non-static method JString::substr() should not be called statically, assuming $this from incompatible context in /var/www/p5523/data/www/motocycle.ru/administrator/components/com_sh404sef/sh_Net_URL.class.php on line 302

Strict Standards: Non-static method JString::substr() should not be called statically, assuming $this from incompatible context in /var/www/p5523/data/www/motocycle.ru/administrator/components/com_sh404sef/sh_Net_URL.class.php on line 303

Strict Standards: Non-static method JString::substr() should not be called statically, assuming $this from incompatible context in /var/www/p5523/data/www/motocycle.ru/administrator/components/com_sh404sef/sh_Net_URL.class.php on line 308

Strict Standards: Non-static method JString::substr() should not be called statically, assuming $this from incompatible context in /var/www/p5523/data/www/motocycle.ru/administrator/components/com_sh404sef/sh_Net_URL.class.php on line 302

Strict Standards: Non-static method JString::substr() should not be called statically, assuming $this from incompatible context in /var/www/p5523/data/www/motocycle.ru/administrator/components/com_sh404sef/sh_Net_URL.class.php on line 303

Strict Standards: Non-static method JString::substr() should not be called statically, assuming $this from incompatible context in /var/www/p5523/data/www/motocycle.ru/administrator/components/com_sh404sef/sh_Net_URL.class.php on line 308

Strict Standards: Non-static method JString::substr() should not be called statically, assuming $this from incompatible context in /var/www/p5523/data/www/motocycle.ru/administrator/components/com_sh404sef/sh_Net_URL.class.php on line 302

Strict Standards: Non-static method JString::substr() should not be called statically, assuming $this from incompatible context in /var/www/p5523/data/www/motocycle.ru/administrator/components/com_sh404sef/sh_Net_URL.class.php on line 303

Strict Standards: Non-static method JString::substr() should not be called statically, assuming $this from incompatible context in /var/www/p5523/data/www/motocycle.ru/administrator/components/com_sh404sef/sh_Net_URL.class.php on line 308

Strict Standards: Non-static method JString::substr() should not be called statically, assuming $this from incompatible context in /var/www/p5523/data/www/motocycle.ru/administrator/components/com_sh404sef/sh_Net_URL.class.php on line 302

Strict Standards: Non-static method JString::substr() should not be called statically, assuming $this from incompatible context in /var/www/p5523/data/www/motocycle.ru/administrator/components/com_sh404sef/sh_Net_URL.class.php on line 303

Strict Standards: Non-static method JString::substr() should not be called statically, assuming $this from incompatible context in /var/www/p5523/data/www/motocycle.ru/administrator/components/com_sh404sef/sh_Net_URL.class.php on line 308

Strict Standards: Non-static method JString::substr() should not be called statically, assuming $this from incompatible context in /var/www/p5523/data/www/motocycle.ru/administrator/components/com_sh404sef/sh_Net_URL.class.php on line 302

Strict Standards: Non-static method JString::substr() should not be called statically, assuming $this from incompatible context in /var/www/p5523/data/www/motocycle.ru/administrator/components/com_sh404sef/sh_Net_URL.class.php on line 303

Strict Standards: Non-static method JString::substr() should not be called statically, assuming $this from incompatible context in /var/www/p5523/data/www/motocycle.ru/administrator/components/com_sh404sef/sh_Net_URL.class.php on line 308

Strict Standards: Non-static method JString::substr() should not be called statically, assuming $this from incompatible context in /var/www/p5523/data/www/motocycle.ru/administrator/components/com_sh404sef/sh_Net_URL.class.php on line 302

Strict Standards: Non-static method JString::substr() should not be called statically, assuming $this from incompatible context in /var/www/p5523/data/www/motocycle.ru/administrator/components/com_sh404sef/sh_Net_URL.class.php on line 303

Strict Standards: Non-static method JString::substr() should not be called statically, assuming $this from incompatible context in /var/www/p5523/data/www/motocycle.ru/administrator/components/com_sh404sef/sh_Net_URL.class.php on line 308

Strict Standards: Non-static method JString::substr() should not be called statically, assuming $this from incompatible context in /var/www/p5523/data/www/motocycle.ru/administrator/components/com_sh404sef/sh_Net_URL.class.php on line 302

Strict Standards: Non-static method JString::substr() should not be called statically, assuming $this from incompatible context in /var/www/p5523/data/www/motocycle.ru/administrator/components/com_sh404sef/sh_Net_URL.class.php on line 303

Strict Standards: Non-static method JString::substr() should not be called statically, assuming $this from incompatible context in /var/www/p5523/data/www/motocycle.ru/administrator/components/com_sh404sef/sh_Net_URL.class.php on line 308

Strict Standards: Non-static method JString::substr() should not be called statically, assuming $this from incompatible context in /var/www/p5523/data/www/motocycle.ru/administrator/components/com_sh404sef/sh_Net_URL.class.php on line 302

Strict Standards: Non-static method JString::substr() should not be called statically, assuming $this from incompatible context in /var/www/p5523/data/www/motocycle.ru/administrator/components/com_sh404sef/sh_Net_URL.class.php on line 303

Strict Standards: Non-static method JString::substr() should not be called statically, assuming $this from incompatible context in /var/www/p5523/data/www/motocycle.ru/administrator/components/com_sh404sef/sh_Net_URL.class.php on line 308

Strict Standards: Non-static method shRouter::shGetConfig() should not be called statically in /var/www/p5523/data/www/motocycle.ru/administrator/components/com_sh404sef/sh404sef.class.php on line 1183

Strict Standards: Non-static method shRouter::shGetConfig() should not be called statically in /var/www/p5523/data/www/motocycle.ru/administrator/components/com_sh404sef/sh404sef.class.php on line 869

Strict Standards: Non-static method shRouter::shGetConfig() should not be called statically in /var/www/p5523/data/www/motocycle.ru/components/com_sh404sef/shCache.php on line 240

Strict Standards: Non-static method shRouter::shGetConfig() should not be called statically in /var/www/p5523/data/www/motocycle.ru/administrator/components/com_sh404sef/sh404sef.class.php on line 1183

Strict Standards: Non-static method JString::ltrim() should not be called statically in /var/www/p5523/data/www/motocycle.ru/administrator/components/com_sh404sef/sh404sef.class.php on line 1678

Strict Standards: Non-static method JLoader::import() should not be called statically in /var/www/p5523/data/www/motocycle.ru/libraries/loader.php on line 186

Strict Standards: Non-static method shRouter::shGetConfig() should not be called statically in /var/www/p5523/data/www/motocycle.ru/administrator/components/com_sh404sef/sh404sef.class.php on line 364

Strict Standards: Non-static method JRoute::_() should not be called statically, assuming $this from incompatible context in /var/www/p5523/data/www/motocycle.ru/modules/mod_breadcrumbs/helper.php on line 31

Strict Standards: Non-static method JFactory::getApplication() should not be called statically, assuming $this from incompatible context in /var/www/p5523/data/www/motocycle.ru/libraries/joomla/methods.php on line 41

Strict Standards: Non-static method JFactory::getConfig() should not be called statically, assuming $this from incompatible context in /var/www/p5523/data/www/motocycle.ru/includes/application.php on line 372

Strict Standards: Non-static method JLoader::import() should not be called statically in /var/www/p5523/data/www/motocycle.ru/libraries/loader.php on line 186

Strict Standards: Non-static method JRouter::getInstance() should not be called statically, assuming $this from incompatible context in /var/www/p5523/data/www/motocycle.ru/libraries/joomla/application/application.php on line 674

Strict Standards: Non-static method JError::isError() should not be called statically, assuming $this from incompatible context in /var/www/p5523/data/www/motocycle.ru/libraries/joomla/application/application.php on line 675

Strict Standards: Non-static method JText::_() should not be called statically, assuming $this from incompatible context in /var/www/p5523/data/www/motocycle.ru/modules/mod_breadcrumbs/helper.php on line 37

Strict Standards: Non-static method JFactory::getLanguage() should not be called statically, assuming $this from incompatible context in /var/www/p5523/data/www/motocycle.ru/libraries/joomla/methods.php on line 120

Strict Standards: Non-static method JURI::base() should not be called statically, assuming $this from incompatible context in /var/www/p5523/data/www/motocycle.ru/modules/mod_breadcrumbs/helper.php on line 38

Strict Standards: Non-static method modBreadCrumbsHelper::setSeparator() should not be called statically, assuming $this from incompatible context in /var/www/p5523/data/www/motocycle.ru/modules/mod_breadcrumbs/mod_breadcrumbs.php on line 25

Strict Standards: Non-static method JFactory::getLanguage() should not be called statically, assuming $this from incompatible context in /var/www/p5523/data/www/motocycle.ru/modules/mod_breadcrumbs/helper.php on line 57

Strict Standards: Non-static method JHTML::_() should not be called statically, assuming $this from incompatible context in /var/www/p5523/data/www/motocycle.ru/modules/mod_breadcrumbs/helper.php on line 68

Strict Standards: Non-static method JLoader::load() should not be called statically in /var/www/p5523/data/www/motocycle.ru/libraries/loader.php on line 161

Strict Standards: Non-static method JLoader::register() should not be called statically in /var/www/p5523/data/www/motocycle.ru/libraries/loader.php on line 138

Strict Standards: Non-static method JLoader::import() should not be called statically in /var/www/p5523/data/www/motocycle.ru/libraries/loader.php on line 186

Strict Standards: Non-static method JPath::find() should not be called statically, assuming $this from incompatible context in /var/www/p5523/data/www/motocycle.ru/libraries/joomla/html/html.php on line 66

Strict Standards: Non-static method JHTML::addIncludePath() should not be called statically, assuming $this from incompatible context in /var/www/p5523/data/www/motocycle.ru/libraries/joomla/html/html.php on line 66

Strict Standards: call_user_func_array() expects parameter 1 to be a valid callback, non-static method JHTMLImage::site() should not be called statically in /var/www/p5523/data/www/motocycle.ru/libraries/joomla/html/html.php on line 91

Strict Standards: Non-static method JURI::base() should not be called statically in /var/www/p5523/data/www/motocycle.ru/libraries/joomla/html/html/image.php on line 85

Strict Standards: Non-static method JModuleHelper::getLayoutPath() should not be called statically, assuming $this from incompatible context in /var/www/p5523/data/www/motocycle.ru/modules/mod_breadcrumbs/mod_breadcrumbs.php on line 27

Strict Standards
: Non-static method JModuleHelper::getModules() should not be called statically, assuming $this from incompatible context in
/var/www/p5523/data/www/motocycle.ru/libraries/joomla/document/html/html.php
on line
272
Strict Standards
: Non-static method JModuleHelper::_load() should not be called statically, assuming $this from incompatible context in
/var/www/p5523/data/www/motocycle.ru/libraries/joomla/application/module/helper.php
on line
88
Strict Standards
: Non-static method JModuleHelper::getModules() should not be called statically, assuming $this from incompatible context in
/var/www/p5523/data/www/motocycle.ru/libraries/joomla/document/html/html.php
on line
272
Strict Standards
: Non-static method JModuleHelper::_load() should not be called statically, assuming $this from incompatible context in
/var/www/p5523/data/www/motocycle.ru/libraries/joomla/application/module/helper.php
on line
88
Strict Standards
: Non-static method JRequest::getBool() should not be called statically, assuming $this from incompatible context in
/var/www/p5523/data/www/motocycle.ru/libraries/joomla/application/module/helper.php
on line
97
Strict Standards
: Non-static method JRequest::getVar() should not be called statically, assuming $this from incompatible context in
/var/www/p5523/data/www/motocycle.ru/libraries/joomla/environment/request.php
on line
217
Strict Standards
: Non-static method JRequest::_cleanVar() should not be called statically, assuming $this from incompatible context in
/var/www/p5523/data/www/motocycle.ru/libraries/joomla/environment/request.php
on line
151
Strict Standards
: Non-static method JFilterInput::getInstance() should not be called statically, assuming $this from incompatible context in
/var/www/p5523/data/www/motocycle.ru/libraries/joomla/environment/request.php
on line
577
Strict Standards
: Non-static method JModuleHelper::getModules() should not be called statically, assuming $this from incompatible context in
/var/www/p5523/data/www/motocycle.ru/libraries/joomla/document/html/html.php
on line
272
Strict Standards
: Non-static method JModuleHelper::_load() should not be called statically, assuming $this from incompatible context in
/var/www/p5523/data/www/motocycle.ru/libraries/joomla/application/module/helper.php
on line
88
Strict Standards
: Non-static method JRequest::getBool() should not be called statically, assuming $this from incompatible context in
/var/www/p5523/data/www/motocycle.ru/libraries/joomla/application/module/helper.php
on line
97
Strict Standards
: Non-static method JRequest::getVar() should not be called statically, assuming $this from incompatible context in
/var/www/p5523/data/www/motocycle.ru/libraries/joomla/environment/request.php
on line
217
Strict Standards
: Non-static method JRequest::_cleanVar() should not be called statically, assuming $this from incompatible context in
/var/www/p5523/data/www/motocycle.ru/libraries/joomla/environment/request.php
on line
151
Strict Standards
: Non-static method JFilterInput::getInstance() should not be called statically, assuming $this from incompatible context in
/var/www/p5523/data/www/motocycle.ru/libraries/joomla/environment/request.php
on line
577
Strict Standards
: Non-static method JModuleHelper::getModules() should not be called statically, assuming $this from incompatible context in
/var/www/p5523/data/www/motocycle.ru/libraries/joomla/document/html/html.php
on line
272
Strict Standards
: Non-static method JModuleHelper::_load() should not be called statically, assuming $this from incompatible context in
/var/www/p5523/data/www/motocycle.ru/libraries/joomla/application/module/helper.php
on line
88

Мотоспорт -
Команды, спортсмены, турниры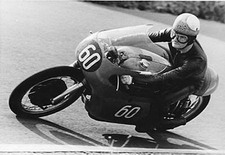 Майк The Bike Хейлвуд
Родился: 2 апреля 1940
Грин Мильтон, Бирмингем
Выдающегося мотогонщика, Майка Хейлвуда очень часто называют лучшим гонщиком всех времен . Даже после перехода в Формулу-1 Майк не перестал удивлять своих поклонников. Хейлвуд выиграл 9 мировых чемпионатов по мотогонкам с 1961 по 1967 годы, а затем ушел в автоспорт, чтобы продолжить путь Джона Сюртиса.
В 1978 году, даже после страшной аварии и травмы ноги, которую он получил в гонке Формулы-1 на Нюрнбунгринге, Майк снова садится на мотоцикл и побеждает на своем 900-кубовом Ducati в Турист Трофи Isle of Man TT. Затем, не менее эффектно он выигрывает Senior TT на 500-кубовом ГранПрийном байке Suzuki.
В 1980 году Майк The Bike ушел из гонок ... ушел, чтобы вырастить свою дочку, чтобы быть ближе к семье. 23 марта 1981 он погибает вместе со своей дочкой в автокатастрофе неподалеку от дома в Уорвикшире.
---
Strict Standards
: Non-static method JModuleHelper::getModules() should not be called statically, assuming $this from incompatible context in
/var/www/p5523/data/www/motocycle.ru/libraries/joomla/document/html/html.php
on line
272
Strict Standards
: Non-static method JModuleHelper::_load() should not be called statically, assuming $this from incompatible context in
/var/www/p5523/data/www/motocycle.ru/libraries/joomla/application/module/helper.php
on line
88
Новости motoGP:
Deprecated
: Assigning the return value of new by reference is deprecated in
/var/www/p5523/data/www/motocycle.ru/modules/mod_news_show_gk3/mod_news_show_gk3.php
on line
25
Strict Standards
: Non-static method JString::strpos() should not be called statically, assuming $this from incompatible context in
/var/www/p5523/data/www/motocycle.ru/modules/mod_news_show_gk3/helper.php
on line
194
Strict Standards
: Non-static method JString::strpos() should not be called statically, assuming $this from incompatible context in
/var/www/p5523/data/www/motocycle.ru/modules/mod_news_show_gk3/helper.php
on line
194
Strict Standards
: Non-static method JString::strpos() should not be called statically, assuming $this from incompatible context in
/var/www/p5523/data/www/motocycle.ru/modules/mod_news_show_gk3/helper.php
on line
195
Strict Standards
: Non-static method JString::strpos() should not be called statically, assuming $this from incompatible context in
/var/www/p5523/data/www/motocycle.ru/modules/mod_news_show_gk3/helper.php
on line
195
Strict Standards
: Non-static method JString::strpos() should not be called statically, assuming $this from incompatible context in
/var/www/p5523/data/www/motocycle.ru/modules/mod_news_show_gk3/helper.php
on line
196
Strict Standards
: Non-static method JFactory::getDBO() should not be called statically, assuming $this from incompatible context in
/var/www/p5523/data/www/motocycle.ru/modules/mod_news_show_gk3/helper.php
on line
207
Strict Standards
: Non-static method JFactory::getUser() should not be called statically, assuming $this from incompatible context in
/var/www/p5523/data/www/motocycle.ru/modules/mod_news_show_gk3/helper.php
on line
208
Strict Standards
: Non-static method JLoader::import() should not be called statically in
/var/www/p5523/data/www/motocycle.ru/libraries/loader.php
on line
186
Strict Standards
: Non-static method JFactory::getSession() should not be called statically, assuming $this from incompatible context in
/var/www/p5523/data/www/motocycle.ru/libraries/joomla/factory.php
on line
163
Strict Standards
: Non-static method JComponentHelper::getParams() should not be called statically, assuming $this from incompatible context in
/var/www/p5523/data/www/motocycle.ru/modules/mod_news_show_gk3/helper.php
on line
210
Strict Standards
: Non-static method JFactory::getConfig() should not be called statically, assuming $this from incompatible context in
/var/www/p5523/data/www/motocycle.ru/libraries/joomla/application/application.php
on line
394
Strict Standards
: Non-static method JRoute::_() should not be called statically, assuming $this from incompatible context in
/var/www/p5523/data/www/motocycle.ru/modules/mod_news_show_gk3/helper.php
on line
318
Strict Standards
: Non-static method ContentHelperRoute::getCategoryRoute() should not be called statically, assuming $this from incompatible context in
/var/www/p5523/data/www/motocycle.ru/modules/mod_news_show_gk3/helper.php
on line
318
Strict Standards
: Non-static method ContentHelperRoute::_findItem() should not be called statically, assuming $this from incompatible context in
/var/www/p5523/data/www/motocycle.ru/components/com_content/helpers/route.php
on line
85
Strict Standards
: Non-static method JComponentHelper::getComponent() should not be called statically, assuming $this from incompatible context in
/var/www/p5523/data/www/motocycle.ru/components/com_content/helpers/route.php
on line
97
Strict Standards
: Non-static method JComponentHelper::_load() should not be called statically, assuming $this from incompatible context in
/var/www/p5523/data/www/motocycle.ru/libraries/joomla/application/component/helper.php
on line
39
Strict Standards
: Non-static method JApplication::getMenu() should not be called statically, assuming $this from incompatible context in
/var/www/p5523/data/www/motocycle.ru/components/com_content/helpers/route.php
on line
99
Strict Standards
: Non-static method JLoader::import() should not be called statically in
/var/www/p5523/data/www/motocycle.ru/libraries/loader.php
on line
186
Strict Standards
: Non-static method JMenu::getInstance() should not be called statically, assuming $this from incompatible context in
/var/www/p5523/data/www/motocycle.ru/libraries/joomla/application/application.php
on line
720
Strict Standards
: Non-static method JError::isError() should not be called statically, assuming $this from incompatible context in
/var/www/p5523/data/www/motocycle.ru/libraries/joomla/application/application.php
on line
721
Strict Standards
: Non-static method JFactory::getApplication() should not be called statically, assuming $this from incompatible context in
/var/www/p5523/data/www/motocycle.ru/libraries/joomla/methods.php
on line
41
Strict Standards
: Non-static method JFactory::getConfig() should not be called statically, assuming $this from incompatible context in
/var/www/p5523/data/www/motocycle.ru/includes/application.php
on line
372
Strict Standards
: Non-static method JLoader::import() should not be called statically in
/var/www/p5523/data/www/motocycle.ru/libraries/loader.php
on line
186
Strict Standards
: Non-static method JRouter::getInstance() should not be called statically, assuming $this from incompatible context in
/var/www/p5523/data/www/motocycle.ru/libraries/joomla/application/application.php
on line
674
Strict Standards
: Non-static method JError::isError() should not be called statically, assuming $this from incompatible context in
/var/www/p5523/data/www/motocycle.ru/libraries/joomla/application/application.php
on line
675
Strict Standards
: Non-static method JString::trim() should not be called statically in
/var/www/p5523/data/www/motocycle.ru/administrator/components/com_sh404sef/sh404sef.class.php
on line
484
Strict Standards
: Non-static method JLoader::import() should not be called statically in
/var/www/p5523/data/www/motocycle.ru/libraries/loader.php
on line
186
Strict Standards
: Non-static method shRouter::shGetConfig() should not be called statically in
/var/www/p5523/data/www/motocycle.ru/administrator/components/com_sh404sef/sh404sef.class.php
on line
1183
Strict Standards
: Non-static method shRouter::shGetConfig() should not be called statically in
/var/www/p5523/data/www/motocycle.ru/administrator/components/com_sh404sef/sh404sef.class.php
on line
1230
Strict Standards
: Non-static method JString::substr() should not be called statically in
/var/www/p5523/data/www/motocycle.ru/administrator/components/com_sh404sef/sh404sef.class.php
on line
1241
Strict Standards
: Non-static method JFactory::getDBO() should not be called statically in
/var/www/p5523/data/www/motocycle.ru/administrator/components/com_sh404sef/sh404sef.class.php
on line
1250
Strict Standards
: Non-static method shRouter::shGetConfig() should not be called statically in
/var/www/p5523/data/www/motocycle.ru/administrator/components/com_sh404sef/sh404sef.class.php
on line
1183
Strict Standards
: Non-static method JString::substr() should not be called statically in
/var/www/p5523/data/www/motocycle.ru/administrator/components/com_sh404sef/sh404sef.class.php
on line
1273
Strict Standards
: Non-static method JString::ltrim() should not be called statically in
/var/www/p5523/data/www/motocycle.ru/administrator/components/com_sh404sef/sh404sef.class.php
on line
1307
Strict Standards
: Non-static method JLoader::import() should not be called statically in
/var/www/p5523/data/www/motocycle.ru/libraries/loader.php
on line
186
Strict Standards
: Non-static method JString::substr() should not be called statically in
/var/www/p5523/data/www/motocycle.ru/administrator/components/com_sh404sef/sh404sef.class.php
on line
1312
Strict Standards
: Non-static method JFactory::getDBO() should not be called statically in
/var/www/p5523/data/www/motocycle.ru/administrator/components/com_sh404sef/sh404sef.class.php
on line
980
Strict Standards
: Non-static method JString::substr() should not be called statically in
/var/www/p5523/data/www/motocycle.ru/administrator/components/com_sh404sef/sh404sef.class.php
on line
1357
Strict Standards
: Non-static method JString::substr() should not be called statically in
/var/www/p5523/data/www/motocycle.ru/administrator/components/com_sh404sef/sh404sef.class.php
on line
1370
Strict Standards
: Non-static method JFactory::getDBO() should not be called statically in
/var/www/p5523/data/www/motocycle.ru/administrator/components/com_sh404sef/sh404sef.class.php
on line
980
Strict Standards
: Non-static method JString::substr() should not be called statically, assuming $this from incompatible context in
/var/www/p5523/data/www/motocycle.ru/administrator/components/com_sh404sef/sh_Net_URL.class.php
on line
302
Strict Standards
: Non-static method JString::substr() should not be called statically, assuming $this from incompatible context in
/var/www/p5523/data/www/motocycle.ru/administrator/components/com_sh404sef/sh_Net_URL.class.php
on line
303
Strict Standards
: Non-static method JString::substr() should not be called statically, assuming $this from incompatible context in
/var/www/p5523/data/www/motocycle.ru/administrator/components/com_sh404sef/sh_Net_URL.class.php
on line
308
Strict Standards
: Non-static method JString::substr() should not be called statically, assuming $this from incompatible context in
/var/www/p5523/data/www/motocycle.ru/administrator/components/com_sh404sef/sh_Net_URL.class.php
on line
302
Strict Standards
: Non-static method JString::substr() should not be called statically, assuming $this from incompatible context in
/var/www/p5523/data/www/motocycle.ru/administrator/components/com_sh404sef/sh_Net_URL.class.php
on line
303
Strict Standards
: Non-static method JString::substr() should not be called statically, assuming $this from incompatible context in
/var/www/p5523/data/www/motocycle.ru/administrator/components/com_sh404sef/sh_Net_URL.class.php
on line
308
Strict Standards
: Non-static method JString::substr() should not be called statically, assuming $this from incompatible context in
/var/www/p5523/data/www/motocycle.ru/administrator/components/com_sh404sef/sh_Net_URL.class.php
on line
302
Strict Standards
: Non-static method JString::substr() should not be called statically, assuming $this from incompatible context in
/var/www/p5523/data/www/motocycle.ru/administrator/components/com_sh404sef/sh_Net_URL.class.php
on line
303
Strict Standards
: Non-static method JString::substr() should not be called statically, assuming $this from incompatible context in
/var/www/p5523/data/www/motocycle.ru/administrator/components/com_sh404sef/sh_Net_URL.class.php
on line
308
Strict Standards
: Non-static method JString::substr() should not be called statically, assuming $this from incompatible context in
/var/www/p5523/data/www/motocycle.ru/administrator/components/com_sh404sef/sh_Net_URL.class.php
on line
302
Strict Standards
: Non-static method JString::substr() should not be called statically, assuming $this from incompatible context in
/var/www/p5523/data/www/motocycle.ru/administrator/components/com_sh404sef/sh_Net_URL.class.php
on line
303
Strict Standards
: Non-static method JString::substr() should not be called statically, assuming $this from incompatible context in
/var/www/p5523/data/www/motocycle.ru/administrator/components/com_sh404sef/sh_Net_URL.class.php
on line
308
Strict Standards
: Non-static method JString::substr() should not be called statically, assuming $this from incompatible context in
/var/www/p5523/data/www/motocycle.ru/administrator/components/com_sh404sef/sh_Net_URL.class.php
on line
302
Strict Standards
: Non-static method JString::substr() should not be called statically, assuming $this from incompatible context in
/var/www/p5523/data/www/motocycle.ru/administrator/components/com_sh404sef/sh_Net_URL.class.php
on line
303
Strict Standards
: Non-static method JString::substr() should not be called statically, assuming $this from incompatible context in
/var/www/p5523/data/www/motocycle.ru/administrator/components/com_sh404sef/sh_Net_URL.class.php
on line
308
Strict Standards
: Non-static method JString::substr() should not be called statically, assuming $this from incompatible context in
/var/www/p5523/data/www/motocycle.ru/administrator/components/com_sh404sef/sh_Net_URL.class.php
on line
302
Strict Standards
: Non-static method JString::substr() should not be called statically, assuming $this from incompatible context in
/var/www/p5523/data/www/motocycle.ru/administrator/components/com_sh404sef/sh_Net_URL.class.php
on line
303
Strict Standards
: Non-static method JString::substr() should not be called statically, assuming $this from incompatible context in
/var/www/p5523/data/www/motocycle.ru/administrator/components/com_sh404sef/sh_Net_URL.class.php
on line
308
Strict Standards
: Non-static method JString::substr() should not be called statically, assuming $this from incompatible context in
/var/www/p5523/data/www/motocycle.ru/administrator/components/com_sh404sef/sh_Net_URL.class.php
on line
302
Strict Standards
: Non-static method JString::substr() should not be called statically, assuming $this from incompatible context in
/var/www/p5523/data/www/motocycle.ru/administrator/components/com_sh404sef/sh_Net_URL.class.php
on line
303
Strict Standards
: Non-static method JString::substr() should not be called statically, assuming $this from incompatible context in
/var/www/p5523/data/www/motocycle.ru/administrator/components/com_sh404sef/sh_Net_URL.class.php
on line
308
Strict Standards
: Non-static method JString::substr() should not be called statically, assuming $this from incompatible context in
/var/www/p5523/data/www/motocycle.ru/administrator/components/com_sh404sef/sh_Net_URL.class.php
on line
302
Strict Standards
: Non-static method JString::substr() should not be called statically, assuming $this from incompatible context in
/var/www/p5523/data/www/motocycle.ru/administrator/components/com_sh404sef/sh_Net_URL.class.php
on line
303
Strict Standards
: Non-static method JString::substr() should not be called statically, assuming $this from incompatible context in
/var/www/p5523/data/www/motocycle.ru/administrator/components/com_sh404sef/sh_Net_URL.class.php
on line
308
Strict Standards
: Non-static method JString::substr() should not be called statically, assuming $this from incompatible context in
/var/www/p5523/data/www/motocycle.ru/administrator/components/com_sh404sef/sh_Net_URL.class.php
on line
302
Strict Standards
: Non-static method JString::substr() should not be called statically, assuming $this from incompatible context in
/var/www/p5523/data/www/motocycle.ru/administrator/components/com_sh404sef/sh_Net_URL.class.php
on line
303
Strict Standards
: Non-static method JString::substr() should not be called statically, assuming $this from incompatible context in
/var/www/p5523/data/www/motocycle.ru/administrator/components/com_sh404sef/sh_Net_URL.class.php
on line
308
Strict Standards
: Non-static method JString::substr() should not be called statically, assuming $this from incompatible context in
/var/www/p5523/data/www/motocycle.ru/administrator/components/com_sh404sef/sh_Net_URL.class.php
on line
302
Strict Standards
: Non-static method JString::substr() should not be called statically, assuming $this from incompatible context in
/var/www/p5523/data/www/motocycle.ru/administrator/components/com_sh404sef/sh_Net_URL.class.php
on line
303
Strict Standards
: Non-static method JString::substr() should not be called statically, assuming $this from incompatible context in
/var/www/p5523/data/www/motocycle.ru/administrator/components/com_sh404sef/sh_Net_URL.class.php
on line
308
Strict Standards
: Non-static method JString::substr() should not be called statically, assuming $this from incompatible context in
/var/www/p5523/data/www/motocycle.ru/administrator/components/com_sh404sef/sh_Net_URL.class.php
on line
302
Strict Standards
: Non-static method JString::substr() should not be called statically, assuming $this from incompatible context in
/var/www/p5523/data/www/motocycle.ru/administrator/components/com_sh404sef/sh_Net_URL.class.php
on line
303
Strict Standards
: Non-static method JString::substr() should not be called statically, assuming $this from incompatible context in
/var/www/p5523/data/www/motocycle.ru/administrator/components/com_sh404sef/sh_Net_URL.class.php
on line
308
Strict Standards
: Non-static method JString::substr() should not be called statically, assuming $this from incompatible context in
/var/www/p5523/data/www/motocycle.ru/administrator/components/com_sh404sef/sh_Net_URL.class.php
on line
302
Strict Standards
: Non-static method JString::substr() should not be called statically, assuming $this from incompatible context in
/var/www/p5523/data/www/motocycle.ru/administrator/components/com_sh404sef/sh_Net_URL.class.php
on line
303
Strict Standards
: Non-static method JString::substr() should not be called statically, assuming $this from incompatible context in
/var/www/p5523/data/www/motocycle.ru/administrator/components/com_sh404sef/sh_Net_URL.class.php
on line
308
Strict Standards
: Non-static method shRouter::shGetConfig() should not be called statically in
/var/www/p5523/data/www/motocycle.ru/administrator/components/com_sh404sef/sh404sef.class.php
on line
1183
Strict Standards
: Non-static method shRouter::shGetConfig() should not be called statically in
/var/www/p5523/data/www/motocycle.ru/administrator/components/com_sh404sef/sh404sef.class.php
on line
869
Strict Standards
: Non-static method shRouter::shGetConfig() should not be called statically in
/var/www/p5523/data/www/motocycle.ru/components/com_sh404sef/shCache.php
on line
240
Strict Standards
: Non-static method shRouter::shGetConfig() should not be called statically in
/var/www/p5523/data/www/motocycle.ru/administrator/components/com_sh404sef/sh404sef.class.php
on line
1183
Strict Standards
: Non-static method JString::ltrim() should not be called statically in
/var/www/p5523/data/www/motocycle.ru/administrator/components/com_sh404sef/sh404sef.class.php
on line
1678
Strict Standards
: Non-static method JLoader::import() should not be called statically in
/var/www/p5523/data/www/motocycle.ru/libraries/loader.php
on line
186
Strict Standards
: Non-static method shRouter::shGetConfig() should not be called statically in
/var/www/p5523/data/www/motocycle.ru/administrator/components/com_sh404sef/sh404sef.class.php
on line
364
Strict Standards
: Non-static method JText::_() should not be called statically, assuming $this from incompatible context in
/var/www/p5523/data/www/motocycle.ru/modules/mod_news_show_gk3/helper.php
on line
335
Strict Standards
: Non-static method JFactory::getLanguage() should not be called statically, assuming $this from incompatible context in
/var/www/p5523/data/www/motocycle.ru/libraries/joomla/methods.php
on line
120
Strict Standards
: Non-static method JString::substr() should not be called statically, assuming $this from incompatible context in
/var/www/p5523/data/www/motocycle.ru/modules/mod_news_show_gk3/helper.php
on line
335
Strict Standards
: Non-static method JString::strlen() should not be called statically, assuming $this from incompatible context in
/var/www/p5523/data/www/motocycle.ru/modules/mod_news_show_gk3/helper.php
on line
335
Strict Standards
: gmmktime(): You should be using the time() function instead in
/var/www/p5523/data/www/motocycle.ru/modules/mod_news_show_gk3/helper.php
on line
360
Strict Standards
: Non-static method JURI::getInstance() should not be called statically, assuming $this from incompatible context in
/var/www/p5523/data/www/motocycle.ru/modules/mod_news_show_gk3/helper.php
on line
572
Strict Standards
: Non-static method JRoute::_() should not be called statically, assuming $this from incompatible context in
/var/www/p5523/data/www/motocycle.ru/modules/mod_news_show_gk3/helper.php
on line
602
Strict Standards
: Non-static method ContentHelperRoute::getArticleRoute() should not be called statically, assuming $this from incompatible context in
/var/www/p5523/data/www/motocycle.ru/modules/mod_news_show_gk3/helper.php
on line
602
Strict Standards
: Non-static method ContentHelperRoute::_findItem() should not be called statically, assuming $this from incompatible context in
/var/www/p5523/data/www/motocycle.ru/components/com_content/helpers/route.php
on line
49
Strict Standards
: Non-static method JComponentHelper::getComponent() should not be called statically, assuming $this from incompatible context in
/var/www/p5523/data/www/motocycle.ru/components/com_content/helpers/route.php
on line
97
Strict Standards
: Non-static method JComponentHelper::_load() should not be called statically, assuming $this from incompatible context in
/var/www/p5523/data/www/motocycle.ru/libraries/joomla/application/component/helper.php
on line
39
Strict Standards
: Non-static method JApplication::getMenu() should not be called statically, assuming $this from incompatible context in
/var/www/p5523/data/www/motocycle.ru/components/com_content/helpers/route.php
on line
99
Strict Standards
: Non-static method JLoader::import() should not be called statically in
/var/www/p5523/data/www/motocycle.ru/libraries/loader.php
on line
186
Strict Standards
: Non-static method JMenu::getInstance() should not be called statically, assuming $this from incompatible context in
/var/www/p5523/data/www/motocycle.ru/libraries/joomla/application/application.php
on line
720
Strict Standards
: Non-static method JError::isError() should not be called statically, assuming $this from incompatible context in
/var/www/p5523/data/www/motocycle.ru/libraries/joomla/application/application.php
on line
721
Strict Standards
: Non-static method JFactory::getApplication() should not be called statically, assuming $this from incompatible context in
/var/www/p5523/data/www/motocycle.ru/libraries/joomla/methods.php
on line
41
Strict Standards
: Non-static method JFactory::getConfig() should not be called statically, assuming $this from incompatible context in
/var/www/p5523/data/www/motocycle.ru/includes/application.php
on line
372
Strict Standards
: Non-static method JLoader::import() should not be called statically in
/var/www/p5523/data/www/motocycle.ru/libraries/loader.php
on line
186
Strict Standards
: Non-static method JRouter::getInstance() should not be called statically, assuming $this from incompatible context in
/var/www/p5523/data/www/motocycle.ru/libraries/joomla/application/application.php
on line
674
Strict Standards
: Non-static method JError::isError() should not be called statically, assuming $this from incompatible context in
/var/www/p5523/data/www/motocycle.ru/libraries/joomla/application/application.php
on line
675
Strict Standards
: Non-static method JString::trim() should not be called statically in
/var/www/p5523/data/www/motocycle.ru/administrator/components/com_sh404sef/sh404sef.class.php
on line
484
Strict Standards
: Non-static method JLoader::import() should not be called statically in
/var/www/p5523/data/www/motocycle.ru/libraries/loader.php
on line
186
Strict Standards
: Non-static method shRouter::shGetConfig() should not be called statically in
/var/www/p5523/data/www/motocycle.ru/administrator/components/com_sh404sef/sh404sef.class.php
on line
1183
Strict Standards
: Non-static method shRouter::shGetConfig() should not be called statically in
/var/www/p5523/data/www/motocycle.ru/administrator/components/com_sh404sef/sh404sef.class.php
on line
1230
Strict Standards
: Non-static method JString::substr() should not be called statically in
/var/www/p5523/data/www/motocycle.ru/administrator/components/com_sh404sef/sh404sef.class.php
on line
1241
Strict Standards
: Non-static method JFactory::getDBO() should not be called statically in
/var/www/p5523/data/www/motocycle.ru/administrator/components/com_sh404sef/sh404sef.class.php
on line
1250
Strict Standards
: Non-static method shRouter::shGetConfig() should not be called statically in
/var/www/p5523/data/www/motocycle.ru/administrator/components/com_sh404sef/sh404sef.class.php
on line
1183
Strict Standards
: Non-static method JString::substr() should not be called statically in
/var/www/p5523/data/www/motocycle.ru/administrator/components/com_sh404sef/sh404sef.class.php
on line
1273
Strict Standards
: Non-static method JString::ltrim() should not be called statically in
/var/www/p5523/data/www/motocycle.ru/administrator/components/com_sh404sef/sh404sef.class.php
on line
1307
Strict Standards
: Non-static method JLoader::import() should not be called statically in
/var/www/p5523/data/www/motocycle.ru/libraries/loader.php
on line
186
Strict Standards
: Non-static method JString::substr() should not be called statically in
/var/www/p5523/data/www/motocycle.ru/administrator/components/com_sh404sef/sh404sef.class.php
on line
1312
Strict Standards
: Non-static method JFactory::getDBO() should not be called statically in
/var/www/p5523/data/www/motocycle.ru/administrator/components/com_sh404sef/sh404sef.class.php
on line
980
Strict Standards
: Non-static method JString::substr() should not be called statically in
/var/www/p5523/data/www/motocycle.ru/administrator/components/com_sh404sef/sh404sef.class.php
on line
1357
Strict Standards
: Non-static method JString::substr() should not be called statically in
/var/www/p5523/data/www/motocycle.ru/administrator/components/com_sh404sef/sh404sef.class.php
on line
1370
Strict Standards
: Non-static method JFactory::getDBO() should not be called statically in
/var/www/p5523/data/www/motocycle.ru/administrator/components/com_sh404sef/sh404sef.class.php
on line
980
Strict Standards
: Non-static method JString::substr() should not be called statically, assuming $this from incompatible context in
/var/www/p5523/data/www/motocycle.ru/administrator/components/com_sh404sef/sh_Net_URL.class.php
on line
302
Strict Standards
: Non-static method JString::substr() should not be called statically, assuming $this from incompatible context in
/var/www/p5523/data/www/motocycle.ru/administrator/components/com_sh404sef/sh_Net_URL.class.php
on line
303
Strict Standards
: Non-static method JString::substr() should not be called statically, assuming $this from incompatible context in
/var/www/p5523/data/www/motocycle.ru/administrator/components/com_sh404sef/sh_Net_URL.class.php
on line
308
Strict Standards
: Non-static method JString::substr() should not be called statically, assuming $this from incompatible context in
/var/www/p5523/data/www/motocycle.ru/administrator/components/com_sh404sef/sh_Net_URL.class.php
on line
302
Strict Standards
: Non-static method JString::substr() should not be called statically, assuming $this from incompatible context in
/var/www/p5523/data/www/motocycle.ru/administrator/components/com_sh404sef/sh_Net_URL.class.php
on line
303
Strict Standards
: Non-static method JString::substr() should not be called statically, assuming $this from incompatible context in
/var/www/p5523/data/www/motocycle.ru/administrator/components/com_sh404sef/sh_Net_URL.class.php
on line
308
Strict Standards
: Non-static method JString::substr() should not be called statically, assuming $this from incompatible context in
/var/www/p5523/data/www/motocycle.ru/administrator/components/com_sh404sef/sh_Net_URL.class.php
on line
302
Strict Standards
: Non-static method JString::substr() should not be called statically, assuming $this from incompatible context in
/var/www/p5523/data/www/motocycle.ru/administrator/components/com_sh404sef/sh_Net_URL.class.php
on line
303
Strict Standards
: Non-static method JString::substr() should not be called statically, assuming $this from incompatible context in
/var/www/p5523/data/www/motocycle.ru/administrator/components/com_sh404sef/sh_Net_URL.class.php
on line
308
Strict Standards
: Non-static method JString::substr() should not be called statically, assuming $this from incompatible context in
/var/www/p5523/data/www/motocycle.ru/administrator/components/com_sh404sef/sh_Net_URL.class.php
on line
302
Strict Standards
: Non-static method JString::substr() should not be called statically, assuming $this from incompatible context in
/var/www/p5523/data/www/motocycle.ru/administrator/components/com_sh404sef/sh_Net_URL.class.php
on line
303
Strict Standards
: Non-static method JString::substr() should not be called statically, assuming $this from incompatible context in
/var/www/p5523/data/www/motocycle.ru/administrator/components/com_sh404sef/sh_Net_URL.class.php
on line
308
Strict Standards
: Non-static method JString::substr() should not be called statically, assuming $this from incompatible context in
/var/www/p5523/data/www/motocycle.ru/administrator/components/com_sh404sef/sh_Net_URL.class.php
on line
302
Strict Standards
: Non-static method JString::substr() should not be called statically, assuming $this from incompatible context in
/var/www/p5523/data/www/motocycle.ru/administrator/components/com_sh404sef/sh_Net_URL.class.php
on line
303
Strict Standards
: Non-static method JString::substr() should not be called statically, assuming $this from incompatible context in
/var/www/p5523/data/www/motocycle.ru/administrator/components/com_sh404sef/sh_Net_URL.class.php
on line
308
Strict Standards
: Non-static method JString::substr() should not be called statically, assuming $this from incompatible context in
/var/www/p5523/data/www/motocycle.ru/administrator/components/com_sh404sef/sh_Net_URL.class.php
on line
302
Strict Standards
: Non-static method JString::substr() should not be called statically, assuming $this from incompatible context in
/var/www/p5523/data/www/motocycle.ru/administrator/components/com_sh404sef/sh_Net_URL.class.php
on line
303
Strict Standards
: Non-static method JString::substr() should not be called statically, assuming $this from incompatible context in
/var/www/p5523/data/www/motocycle.ru/administrator/components/com_sh404sef/sh_Net_URL.class.php
on line
308
Strict Standards
: Non-static method JString::substr() should not be called statically, assuming $this from incompatible context in
/var/www/p5523/data/www/motocycle.ru/administrator/components/com_sh404sef/sh_Net_URL.class.php
on line
302
Strict Standards
: Non-static method JString::substr() should not be called statically, assuming $this from incompatible context in
/var/www/p5523/data/www/motocycle.ru/administrator/components/com_sh404sef/sh_Net_URL.class.php
on line
303
Strict Standards
: Non-static method JString::substr() should not be called statically, assuming $this from incompatible context in
/var/www/p5523/data/www/motocycle.ru/administrator/components/com_sh404sef/sh_Net_URL.class.php
on line
308
Strict Standards
: Non-static method JString::substr() should not be called statically, assuming $this from incompatible context in
/var/www/p5523/data/www/motocycle.ru/administrator/components/com_sh404sef/sh_Net_URL.class.php
on line
302
Strict Standards
: Non-static method JString::substr() should not be called statically, assuming $this from incompatible context in
/var/www/p5523/data/www/motocycle.ru/administrator/components/com_sh404sef/sh_Net_URL.class.php
on line
303
Strict Standards
: Non-static method JString::substr() should not be called statically, assuming $this from incompatible context in
/var/www/p5523/data/www/motocycle.ru/administrator/components/com_sh404sef/sh_Net_URL.class.php
on line
308
Strict Standards
: Non-static method JString::substr() should not be called statically, assuming $this from incompatible context in
/var/www/p5523/data/www/motocycle.ru/administrator/components/com_sh404sef/sh_Net_URL.class.php
on line
302
Strict Standards
: Non-static method JString::substr() should not be called statically, assuming $this from incompatible context in
/var/www/p5523/data/www/motocycle.ru/administrator/components/com_sh404sef/sh_Net_URL.class.php
on line
303
Strict Standards
: Non-static method JString::substr() should not be called statically, assuming $this from incompatible context in
/var/www/p5523/data/www/motocycle.ru/administrator/components/com_sh404sef/sh_Net_URL.class.php
on line
308
Strict Standards
: Non-static method JString::substr() should not be called statically, assuming $this from incompatible context in
/var/www/p5523/data/www/motocycle.ru/administrator/components/com_sh404sef/sh_Net_URL.class.php
on line
302
Strict Standards
: Non-static method JString::substr() should not be called statically, assuming $this from incompatible context in
/var/www/p5523/data/www/motocycle.ru/administrator/components/com_sh404sef/sh_Net_URL.class.php
on line
303
Strict Standards
: Non-static method JString::substr() should not be called statically, assuming $this from incompatible context in
/var/www/p5523/data/www/motocycle.ru/administrator/components/com_sh404sef/sh_Net_URL.class.php
on line
308
Strict Standards
: Non-static method JString::substr() should not be called statically, assuming $this from incompatible context in
/var/www/p5523/data/www/motocycle.ru/administrator/components/com_sh404sef/sh_Net_URL.class.php
on line
302
Strict Standards
: Non-static method JString::substr() should not be called statically, assuming $this from incompatible context in
/var/www/p5523/data/www/motocycle.ru/administrator/components/com_sh404sef/sh_Net_URL.class.php
on line
303
Strict Standards
: Non-static method JString::substr() should not be called statically, assuming $this from incompatible context in
/var/www/p5523/data/www/motocycle.ru/administrator/components/com_sh404sef/sh_Net_URL.class.php
on line
308
Strict Standards
: Non-static method JString::substr() should not be called statically, assuming $this from incompatible context in
/var/www/p5523/data/www/motocycle.ru/administrator/components/com_sh404sef/sh_Net_URL.class.php
on line
302
Strict Standards
: Non-static method JString::substr() should not be called statically, assuming $this from incompatible context in
/var/www/p5523/data/www/motocycle.ru/administrator/components/com_sh404sef/sh_Net_URL.class.php
on line
303
Strict Standards
: Non-static method JString::substr() should not be called statically, assuming $this from incompatible context in
/var/www/p5523/data/www/motocycle.ru/administrator/components/com_sh404sef/sh_Net_URL.class.php
on line
308
Strict Standards
: Non-static method shRouter::shGetConfig() should not be called statically in
/var/www/p5523/data/www/motocycle.ru/administrator/components/com_sh404sef/sh404sef.class.php
on line
1183
Strict Standards
: Non-static method JString::rtrim() should not be called statically in
/var/www/p5523/data/www/motocycle.ru/administrator/components/com_sh404sef/sh404sef.class.php
on line
2033
Strict Standards
: Non-static method JLoader::import() should not be called statically in
/var/www/p5523/data/www/motocycle.ru/libraries/loader.php
on line
186
Strict Standards
: Non-static method shRouter::shGetConfig() should not be called statically in
/var/www/p5523/data/www/motocycle.ru/administrator/components/com_sh404sef/sh404sef.class.php
on line
869
Strict Standards
: Non-static method shRouter::shGetConfig() should not be called statically in
/var/www/p5523/data/www/motocycle.ru/components/com_sh404sef/shCache.php
on line
240
Strict Standards
: Non-static method shRouter::shGetConfig() should not be called statically in
/var/www/p5523/data/www/motocycle.ru/administrator/components/com_sh404sef/sh404sef.class.php
on line
1183
Strict Standards
: Non-static method JString::ltrim() should not be called statically in
/var/www/p5523/data/www/motocycle.ru/administrator/components/com_sh404sef/sh404sef.class.php
on line
1678
Strict Standards
: Non-static method JLoader::import() should not be called statically in
/var/www/p5523/data/www/motocycle.ru/libraries/loader.php
on line
186
Strict Standards
: Non-static method shRouter::shGetConfig() should not be called statically in
/var/www/p5523/data/www/motocycle.ru/administrator/components/com_sh404sef/sh404sef.class.php
on line
364
Strict Standards
: Non-static method JString::substr() should not be called statically, assuming $this from incompatible context in
/var/www/p5523/data/www/motocycle.ru/modules/mod_news_show_gk3/helper.php
on line
602
Strict Standards
: Non-static method JRoute::_() should not be called statically, assuming $this from incompatible context in
/var/www/p5523/data/www/motocycle.ru/modules/mod_news_show_gk3/helper.php
on line
620
Strict Standards
: Non-static method ContentHelperRoute::getArticleRoute() should not be called statically, assuming $this from incompatible context in
/var/www/p5523/data/www/motocycle.ru/modules/mod_news_show_gk3/helper.php
on line
620
Strict Standards
: Non-static method ContentHelperRoute::_findItem() should not be called statically, assuming $this from incompatible context in
/var/www/p5523/data/www/motocycle.ru/components/com_content/helpers/route.php
on line
49
Strict Standards
: Non-static method JComponentHelper::getComponent() should not be called statically, assuming $this from incompatible context in
/var/www/p5523/data/www/motocycle.ru/components/com_content/helpers/route.php
on line
97
Strict Standards
: Non-static method JComponentHelper::_load() should not be called statically, assuming $this from incompatible context in
/var/www/p5523/data/www/motocycle.ru/libraries/joomla/application/component/helper.php
on line
39
Strict Standards
: Non-static method JApplication::getMenu() should not be called statically, assuming $this from incompatible context in
/var/www/p5523/data/www/motocycle.ru/components/com_content/helpers/route.php
on line
99
Strict Standards
: Non-static method JLoader::import() should not be called statically in
/var/www/p5523/data/www/motocycle.ru/libraries/loader.php
on line
186
Strict Standards
: Non-static method JMenu::getInstance() should not be called statically, assuming $this from incompatible context in
/var/www/p5523/data/www/motocycle.ru/libraries/joomla/application/application.php
on line
720
Strict Standards
: Non-static method JError::isError() should not be called statically, assuming $this from incompatible context in
/var/www/p5523/data/www/motocycle.ru/libraries/joomla/application/application.php
on line
721
Strict Standards
: Non-static method JFactory::getApplication() should not be called statically, assuming $this from incompatible context in
/var/www/p5523/data/www/motocycle.ru/libraries/joomla/methods.php
on line
41
Strict Standards
: Non-static method JFactory::getConfig() should not be called statically, assuming $this from incompatible context in
/var/www/p5523/data/www/motocycle.ru/includes/application.php
on line
372
Strict Standards
: Non-static method JLoader::import() should not be called statically in
/var/www/p5523/data/www/motocycle.ru/libraries/loader.php
on line
186
Strict Standards
: Non-static method JRouter::getInstance() should not be called statically, assuming $this from incompatible context in
/var/www/p5523/data/www/motocycle.ru/libraries/joomla/application/application.php
on line
674
Strict Standards
: Non-static method JError::isError() should not be called statically, assuming $this from incompatible context in
/var/www/p5523/data/www/motocycle.ru/libraries/joomla/application/application.php
on line
675
Strict Standards
: Non-static method JString::trim() should not be called statically in
/var/www/p5523/data/www/motocycle.ru/administrator/components/com_sh404sef/sh404sef.class.php
on line
484
Strict Standards
: Non-static method JLoader::import() should not be called statically in
/var/www/p5523/data/www/motocycle.ru/libraries/loader.php
on line
186
Strict Standards
: Non-static method shRouter::shGetConfig() should not be called statically in
/var/www/p5523/data/www/motocycle.ru/administrator/components/com_sh404sef/sh404sef.class.php
on line
1183
Strict Standards
: Non-static method shRouter::shGetConfig() should not be called statically in
/var/www/p5523/data/www/motocycle.ru/administrator/components/com_sh404sef/sh404sef.class.php
on line
1230
Strict Standards
: Non-static method JString::substr() should not be called statically in
/var/www/p5523/data/www/motocycle.ru/administrator/components/com_sh404sef/sh404sef.class.php
on line
1241
Strict Standards
: Non-static method JFactory::getDBO() should not be called statically in
/var/www/p5523/data/www/motocycle.ru/administrator/components/com_sh404sef/sh404sef.class.php
on line
1250
Strict Standards
: Non-static method shRouter::shGetConfig() should not be called statically in
/var/www/p5523/data/www/motocycle.ru/administrator/components/com_sh404sef/sh404sef.class.php
on line
1183
Strict Standards
: Non-static method JString::substr() should not be called statically in
/var/www/p5523/data/www/motocycle.ru/administrator/components/com_sh404sef/sh404sef.class.php
on line
1273
Strict Standards
: Non-static method JString::ltrim() should not be called statically in
/var/www/p5523/data/www/motocycle.ru/administrator/components/com_sh404sef/sh404sef.class.php
on line
1307
Strict Standards
: Non-static method JLoader::import() should not be called statically in
/var/www/p5523/data/www/motocycle.ru/libraries/loader.php
on line
186
Strict Standards
: Non-static method JString::substr() should not be called statically in
/var/www/p5523/data/www/motocycle.ru/administrator/components/com_sh404sef/sh404sef.class.php
on line
1312
Strict Standards
: Non-static method JFactory::getDBO() should not be called statically in
/var/www/p5523/data/www/motocycle.ru/administrator/components/com_sh404sef/sh404sef.class.php
on line
980
Strict Standards
: Non-static method JString::substr() should not be called statically in
/var/www/p5523/data/www/motocycle.ru/administrator/components/com_sh404sef/sh404sef.class.php
on line
1357
Strict Standards
: Non-static method JString::substr() should not be called statically in
/var/www/p5523/data/www/motocycle.ru/administrator/components/com_sh404sef/sh404sef.class.php
on line
1370
Strict Standards
: Non-static method JFactory::getDBO() should not be called statically in
/var/www/p5523/data/www/motocycle.ru/administrator/components/com_sh404sef/sh404sef.class.php
on line
980
Strict Standards
: Non-static method JString::substr() should not be called statically, assuming $this from incompatible context in
/var/www/p5523/data/www/motocycle.ru/administrator/components/com_sh404sef/sh_Net_URL.class.php
on line
302
Strict Standards
: Non-static method JString::substr() should not be called statically, assuming $this from incompatible context in
/var/www/p5523/data/www/motocycle.ru/administrator/components/com_sh404sef/sh_Net_URL.class.php
on line
303
Strict Standards
: Non-static method JString::substr() should not be called statically, assuming $this from incompatible context in
/var/www/p5523/data/www/motocycle.ru/administrator/components/com_sh404sef/sh_Net_URL.class.php
on line
308
Strict Standards
: Non-static method JString::substr() should not be called statically, assuming $this from incompatible context in
/var/www/p5523/data/www/motocycle.ru/administrator/components/com_sh404sef/sh_Net_URL.class.php
on line
302
Strict Standards
: Non-static method JString::substr() should not be called statically, assuming $this from incompatible context in
/var/www/p5523/data/www/motocycle.ru/administrator/components/com_sh404sef/sh_Net_URL.class.php
on line
303
Strict Standards
: Non-static method JString::substr() should not be called statically, assuming $this from incompatible context in
/var/www/p5523/data/www/motocycle.ru/administrator/components/com_sh404sef/sh_Net_URL.class.php
on line
308
Strict Standards
: Non-static method JString::substr() should not be called statically, assuming $this from incompatible context in
/var/www/p5523/data/www/motocycle.ru/administrator/components/com_sh404sef/sh_Net_URL.class.php
on line
302
Strict Standards
: Non-static method JString::substr() should not be called statically, assuming $this from incompatible context in
/var/www/p5523/data/www/motocycle.ru/administrator/components/com_sh404sef/sh_Net_URL.class.php
on line
303
Strict Standards
: Non-static method JString::substr() should not be called statically, assuming $this from incompatible context in
/var/www/p5523/data/www/motocycle.ru/administrator/components/com_sh404sef/sh_Net_URL.class.php
on line
308
Strict Standards
: Non-static method JString::substr() should not be called statically, assuming $this from incompatible context in
/var/www/p5523/data/www/motocycle.ru/administrator/components/com_sh404sef/sh_Net_URL.class.php
on line
302
Strict Standards
: Non-static method JString::substr() should not be called statically, assuming $this from incompatible context in
/var/www/p5523/data/www/motocycle.ru/administrator/components/com_sh404sef/sh_Net_URL.class.php
on line
303
Strict Standards
: Non-static method JString::substr() should not be called statically, assuming $this from incompatible context in
/var/www/p5523/data/www/motocycle.ru/administrator/components/com_sh404sef/sh_Net_URL.class.php
on line
308
Strict Standards
: Non-static method JString::substr() should not be called statically, assuming $this from incompatible context in
/var/www/p5523/data/www/motocycle.ru/administrator/components/com_sh404sef/sh_Net_URL.class.php
on line
302
Strict Standards
: Non-static method JString::substr() should not be called statically, assuming $this from incompatible context in
/var/www/p5523/data/www/motocycle.ru/administrator/components/com_sh404sef/sh_Net_URL.class.php
on line
303
Strict Standards
: Non-static method JString::substr() should not be called statically, assuming $this from incompatible context in
/var/www/p5523/data/www/motocycle.ru/administrator/components/com_sh404sef/sh_Net_URL.class.php
on line
308
Strict Standards
: Non-static method JString::substr() should not be called statically, assuming $this from incompatible context in
/var/www/p5523/data/www/motocycle.ru/administrator/components/com_sh404sef/sh_Net_URL.class.php
on line
302
Strict Standards
: Non-static method JString::substr() should not be called statically, assuming $this from incompatible context in
/var/www/p5523/data/www/motocycle.ru/administrator/components/com_sh404sef/sh_Net_URL.class.php
on line
303
Strict Standards
: Non-static method JString::substr() should not be called statically, assuming $this from incompatible context in
/var/www/p5523/data/www/motocycle.ru/administrator/components/com_sh404sef/sh_Net_URL.class.php
on line
308
Strict Standards
: Non-static method JString::substr() should not be called statically, assuming $this from incompatible context in
/var/www/p5523/data/www/motocycle.ru/administrator/components/com_sh404sef/sh_Net_URL.class.php
on line
302
Strict Standards
: Non-static method JString::substr() should not be called statically, assuming $this from incompatible context in
/var/www/p5523/data/www/motocycle.ru/administrator/components/com_sh404sef/sh_Net_URL.class.php
on line
303
Strict Standards
: Non-static method JString::substr() should not be called statically, assuming $this from incompatible context in
/var/www/p5523/data/www/motocycle.ru/administrator/components/com_sh404sef/sh_Net_URL.class.php
on line
308
Strict Standards
: Non-static method JString::substr() should not be called statically, assuming $this from incompatible context in
/var/www/p5523/data/www/motocycle.ru/administrator/components/com_sh404sef/sh_Net_URL.class.php
on line
302
Strict Standards
: Non-static method JString::substr() should not be called statically, assuming $this from incompatible context in
/var/www/p5523/data/www/motocycle.ru/administrator/components/com_sh404sef/sh_Net_URL.class.php
on line
303
Strict Standards
: Non-static method JString::substr() should not be called statically, assuming $this from incompatible context in
/var/www/p5523/data/www/motocycle.ru/administrator/components/com_sh404sef/sh_Net_URL.class.php
on line
308
Strict Standards
: Non-static method JString::substr() should not be called statically, assuming $this from incompatible context in
/var/www/p5523/data/www/motocycle.ru/administrator/components/com_sh404sef/sh_Net_URL.class.php
on line
302
Strict Standards
: Non-static method JString::substr() should not be called statically, assuming $this from incompatible context in
/var/www/p5523/data/www/motocycle.ru/administrator/components/com_sh404sef/sh_Net_URL.class.php
on line
303
Strict Standards
: Non-static method JString::substr() should not be called statically, assuming $this from incompatible context in
/var/www/p5523/data/www/motocycle.ru/administrator/components/com_sh404sef/sh_Net_URL.class.php
on line
308
Strict Standards
: Non-static method JString::substr() should not be called statically, assuming $this from incompatible context in
/var/www/p5523/data/www/motocycle.ru/administrator/components/com_sh404sef/sh_Net_URL.class.php
on line
302
Strict Standards
: Non-static method JString::substr() should not be called statically, assuming $this from incompatible context in
/var/www/p5523/data/www/motocycle.ru/administrator/components/com_sh404sef/sh_Net_URL.class.php
on line
303
Strict Standards
: Non-static method JString::substr() should not be called statically, assuming $this from incompatible context in
/var/www/p5523/data/www/motocycle.ru/administrator/components/com_sh404sef/sh_Net_URL.class.php
on line
308
Strict Standards
: Non-static method JString::substr() should not be called statically, assuming $this from incompatible context in
/var/www/p5523/data/www/motocycle.ru/administrator/components/com_sh404sef/sh_Net_URL.class.php
on line
302
Strict Standards
: Non-static method JString::substr() should not be called statically, assuming $this from incompatible context in
/var/www/p5523/data/www/motocycle.ru/administrator/components/com_sh404sef/sh_Net_URL.class.php
on line
303
Strict Standards
: Non-static method JString::substr() should not be called statically, assuming $this from incompatible context in
/var/www/p5523/data/www/motocycle.ru/administrator/components/com_sh404sef/sh_Net_URL.class.php
on line
308
Strict Standards
: Non-static method JString::substr() should not be called statically, assuming $this from incompatible context in
/var/www/p5523/data/www/motocycle.ru/administrator/components/com_sh404sef/sh_Net_URL.class.php
on line
302
Strict Standards
: Non-static method JString::substr() should not be called statically, assuming $this from incompatible context in
/var/www/p5523/data/www/motocycle.ru/administrator/components/com_sh404sef/sh_Net_URL.class.php
on line
303
Strict Standards
: Non-static method JString::substr() should not be called statically, assuming $this from incompatible context in
/var/www/p5523/data/www/motocycle.ru/administrator/components/com_sh404sef/sh_Net_URL.class.php
on line
308
Strict Standards
: Non-static method shRouter::shGetConfig() should not be called statically in
/var/www/p5523/data/www/motocycle.ru/administrator/components/com_sh404sef/sh404sef.class.php
on line
1183
Strict Standards
: Non-static method shRouter::shGetConfig() should not be called statically in
/var/www/p5523/data/www/motocycle.ru/administrator/components/com_sh404sef/sh404sef.class.php
on line
869
Strict Standards
: Non-static method shRouter::shGetConfig() should not be called statically in
/var/www/p5523/data/www/motocycle.ru/components/com_sh404sef/shCache.php
on line
240
Strict Standards
: Non-static method shRouter::shGetConfig() should not be called statically in
/var/www/p5523/data/www/motocycle.ru/administrator/components/com_sh404sef/sh404sef.class.php
on line
1183
Strict Standards
: Non-static method JString::ltrim() should not be called statically in
/var/www/p5523/data/www/motocycle.ru/administrator/components/com_sh404sef/sh404sef.class.php
on line
1678
Strict Standards
: Non-static method JLoader::import() should not be called statically in
/var/www/p5523/data/www/motocycle.ru/libraries/loader.php
on line
186
Strict Standards
: Non-static method shRouter::shGetConfig() should not be called statically in
/var/www/p5523/data/www/motocycle.ru/administrator/components/com_sh404sef/sh404sef.class.php
on line
364
Strict Standards
: Non-static method JString::strpos() should not be called statically, assuming $this from incompatible context in
/var/www/p5523/data/www/motocycle.ru/modules/mod_news_show_gk3/helper.php
on line
625
Strict Standards
: Non-static method JString::strpos() should not be called statically, assuming $this from incompatible context in
/var/www/p5523/data/www/motocycle.ru/modules/mod_news_show_gk3/helper.php
on line
629
Strict Standards
: Non-static method JString::substr() should not be called statically, assuming $this from incompatible context in
/var/www/p5523/data/www/motocycle.ru/modules/mod_news_show_gk3/helper.php
on line
634
Strict Standards
: Non-static method JString::strlen() should not be called statically, assuming $this from incompatible context in
/var/www/p5523/data/www/motocycle.ru/modules/mod_news_show_gk3/helper.php
on line
799
Strict Standards
: Non-static method JString::strlen() should not be called statically, assuming $this from incompatible context in
/var/www/p5523/data/www/motocycle.ru/modules/mod_news_show_gk3/helper.php
on line
802
Strict Standards
: Non-static method JString::substr() should not be called statically, assuming $this from incompatible context in
/var/www/p5523/data/www/motocycle.ru/modules/mod_news_show_gk3/helper.php
on line
805
Strict Standards
: Non-static method JRoute::_() should not be called statically, assuming $this from incompatible context in
/var/www/p5523/data/www/motocycle.ru/modules/mod_news_show_gk3/helper.php
on line
602
Strict Standards
: Non-static method ContentHelperRoute::getArticleRoute() should not be called statically, assuming $this from incompatible context in
/var/www/p5523/data/www/motocycle.ru/modules/mod_news_show_gk3/helper.php
on line
602
Strict Standards
: Non-static method ContentHelperRoute::_findItem() should not be called statically, assuming $this from incompatible context in
/var/www/p5523/data/www/motocycle.ru/components/com_content/helpers/route.php
on line
49
Strict Standards
: Non-static method JComponentHelper::getComponent() should not be called statically, assuming $this from incompatible context in
/var/www/p5523/data/www/motocycle.ru/components/com_content/helpers/route.php
on line
97
Strict Standards
: Non-static method JComponentHelper::_load() should not be called statically, assuming $this from incompatible context in
/var/www/p5523/data/www/motocycle.ru/libraries/joomla/application/component/helper.php
on line
39
Strict Standards
: Non-static method JApplication::getMenu() should not be called statically, assuming $this from incompatible context in
/var/www/p5523/data/www/motocycle.ru/components/com_content/helpers/route.php
on line
99
Strict Standards
: Non-static method JLoader::import() should not be called statically in
/var/www/p5523/data/www/motocycle.ru/libraries/loader.php
on line
186
Strict Standards
: Non-static method JMenu::getInstance() should not be called statically, assuming $this from incompatible context in
/var/www/p5523/data/www/motocycle.ru/libraries/joomla/application/application.php
on line
720
Strict Standards
: Non-static method JError::isError() should not be called statically, assuming $this from incompatible context in
/var/www/p5523/data/www/motocycle.ru/libraries/joomla/application/application.php
on line
721
Strict Standards
: Non-static method JFactory::getApplication() should not be called statically, assuming $this from incompatible context in
/var/www/p5523/data/www/motocycle.ru/libraries/joomla/methods.php
on line
41
Strict Standards
: Non-static method JFactory::getConfig() should not be called statically, assuming $this from incompatible context in
/var/www/p5523/data/www/motocycle.ru/includes/application.php
on line
372
Strict Standards
: Non-static method JLoader::import() should not be called statically in
/var/www/p5523/data/www/motocycle.ru/libraries/loader.php
on line
186
Strict Standards
: Non-static method JRouter::getInstance() should not be called statically, assuming $this from incompatible context in
/var/www/p5523/data/www/motocycle.ru/libraries/joomla/application/application.php
on line
674
Strict Standards
: Non-static method JError::isError() should not be called statically, assuming $this from incompatible context in
/var/www/p5523/data/www/motocycle.ru/libraries/joomla/application/application.php
on line
675
Strict Standards
: Non-static method JString::trim() should not be called statically in
/var/www/p5523/data/www/motocycle.ru/administrator/components/com_sh404sef/sh404sef.class.php
on line
484
Strict Standards
: Non-static method JLoader::import() should not be called statically in
/var/www/p5523/data/www/motocycle.ru/libraries/loader.php
on line
186
Strict Standards
: Non-static method shRouter::shGetConfig() should not be called statically in
/var/www/p5523/data/www/motocycle.ru/administrator/components/com_sh404sef/sh404sef.class.php
on line
1183
Strict Standards
: Non-static method shRouter::shGetConfig() should not be called statically in
/var/www/p5523/data/www/motocycle.ru/administrator/components/com_sh404sef/sh404sef.class.php
on line
1230
Strict Standards
: Non-static method JString::substr() should not be called statically in
/var/www/p5523/data/www/motocycle.ru/administrator/components/com_sh404sef/sh404sef.class.php
on line
1241
Strict Standards
: Non-static method JFactory::getDBO() should not be called statically in
/var/www/p5523/data/www/motocycle.ru/administrator/components/com_sh404sef/sh404sef.class.php
on line
1250
Strict Standards
: Non-static method shRouter::shGetConfig() should not be called statically in
/var/www/p5523/data/www/motocycle.ru/administrator/components/com_sh404sef/sh404sef.class.php
on line
1183
Strict Standards
: Non-static method JString::substr() should not be called statically in
/var/www/p5523/data/www/motocycle.ru/administrator/components/com_sh404sef/sh404sef.class.php
on line
1273
Strict Standards
: Non-static method JString::ltrim() should not be called statically in
/var/www/p5523/data/www/motocycle.ru/administrator/components/com_sh404sef/sh404sef.class.php
on line
1307
Strict Standards
: Non-static method JLoader::import() should not be called statically in
/var/www/p5523/data/www/motocycle.ru/libraries/loader.php
on line
186
Strict Standards
: Non-static method JString::substr() should not be called statically in
/var/www/p5523/data/www/motocycle.ru/administrator/components/com_sh404sef/sh404sef.class.php
on line
1312
Strict Standards
: Non-static method JFactory::getDBO() should not be called statically in
/var/www/p5523/data/www/motocycle.ru/administrator/components/com_sh404sef/sh404sef.class.php
on line
980
Strict Standards
: Non-static method JString::substr() should not be called statically in
/var/www/p5523/data/www/motocycle.ru/administrator/components/com_sh404sef/sh404sef.class.php
on line
1357
Strict Standards
: Non-static method JString::substr() should not be called statically in
/var/www/p5523/data/www/motocycle.ru/administrator/components/com_sh404sef/sh404sef.class.php
on line
1370
Strict Standards
: Non-static method JFactory::getDBO() should not be called statically in
/var/www/p5523/data/www/motocycle.ru/administrator/components/com_sh404sef/sh404sef.class.php
on line
980
Strict Standards
: Non-static method JString::substr() should not be called statically, assuming $this from incompatible context in
/var/www/p5523/data/www/motocycle.ru/administrator/components/com_sh404sef/sh_Net_URL.class.php
on line
302
Strict Standards
: Non-static method JString::substr() should not be called statically, assuming $this from incompatible context in
/var/www/p5523/data/www/motocycle.ru/administrator/components/com_sh404sef/sh_Net_URL.class.php
on line
303
Strict Standards
: Non-static method JString::substr() should not be called statically, assuming $this from incompatible context in
/var/www/p5523/data/www/motocycle.ru/administrator/components/com_sh404sef/sh_Net_URL.class.php
on line
308
Strict Standards
: Non-static method JString::substr() should not be called statically, assuming $this from incompatible context in
/var/www/p5523/data/www/motocycle.ru/administrator/components/com_sh404sef/sh_Net_URL.class.php
on line
302
Strict Standards
: Non-static method JString::substr() should not be called statically, assuming $this from incompatible context in
/var/www/p5523/data/www/motocycle.ru/administrator/components/com_sh404sef/sh_Net_URL.class.php
on line
303
Strict Standards
: Non-static method JString::substr() should not be called statically, assuming $this from incompatible context in
/var/www/p5523/data/www/motocycle.ru/administrator/components/com_sh404sef/sh_Net_URL.class.php
on line
308
Strict Standards
: Non-static method JString::substr() should not be called statically, assuming $this from incompatible context in
/var/www/p5523/data/www/motocycle.ru/administrator/components/com_sh404sef/sh_Net_URL.class.php
on line
302
Strict Standards
: Non-static method JString::substr() should not be called statically, assuming $this from incompatible context in
/var/www/p5523/data/www/motocycle.ru/administrator/components/com_sh404sef/sh_Net_URL.class.php
on line
303
Strict Standards
: Non-static method JString::substr() should not be called statically, assuming $this from incompatible context in
/var/www/p5523/data/www/motocycle.ru/administrator/components/com_sh404sef/sh_Net_URL.class.php
on line
308
Strict Standards
: Non-static method JString::substr() should not be called statically, assuming $this from incompatible context in
/var/www/p5523/data/www/motocycle.ru/administrator/components/com_sh404sef/sh_Net_URL.class.php
on line
302
Strict Standards
: Non-static method JString::substr() should not be called statically, assuming $this from incompatible context in
/var/www/p5523/data/www/motocycle.ru/administrator/components/com_sh404sef/sh_Net_URL.class.php
on line
303
Strict Standards
: Non-static method JString::substr() should not be called statically, assuming $this from incompatible context in
/var/www/p5523/data/www/motocycle.ru/administrator/components/com_sh404sef/sh_Net_URL.class.php
on line
308
Strict Standards
: Non-static method JString::substr() should not be called statically, assuming $this from incompatible context in
/var/www/p5523/data/www/motocycle.ru/administrator/components/com_sh404sef/sh_Net_URL.class.php
on line
302
Strict Standards
: Non-static method JString::substr() should not be called statically, assuming $this from incompatible context in
/var/www/p5523/data/www/motocycle.ru/administrator/components/com_sh404sef/sh_Net_URL.class.php
on line
303
Strict Standards
: Non-static method JString::substr() should not be called statically, assuming $this from incompatible context in
/var/www/p5523/data/www/motocycle.ru/administrator/components/com_sh404sef/sh_Net_URL.class.php
on line
308
Strict Standards
: Non-static method JString::substr() should not be called statically, assuming $this from incompatible context in
/var/www/p5523/data/www/motocycle.ru/administrator/components/com_sh404sef/sh_Net_URL.class.php
on line
302
Strict Standards
: Non-static method JString::substr() should not be called statically, assuming $this from incompatible context in
/var/www/p5523/data/www/motocycle.ru/administrator/components/com_sh404sef/sh_Net_URL.class.php
on line
303
Strict Standards
: Non-static method JString::substr() should not be called statically, assuming $this from incompatible context in
/var/www/p5523/data/www/motocycle.ru/administrator/components/com_sh404sef/sh_Net_URL.class.php
on line
308
Strict Standards
: Non-static method JString::substr() should not be called statically, assuming $this from incompatible context in
/var/www/p5523/data/www/motocycle.ru/administrator/components/com_sh404sef/sh_Net_URL.class.php
on line
302
Strict Standards
: Non-static method JString::substr() should not be called statically, assuming $this from incompatible context in
/var/www/p5523/data/www/motocycle.ru/administrator/components/com_sh404sef/sh_Net_URL.class.php
on line
303
Strict Standards
: Non-static method JString::substr() should not be called statically, assuming $this from incompatible context in
/var/www/p5523/data/www/motocycle.ru/administrator/components/com_sh404sef/sh_Net_URL.class.php
on line
308
Strict Standards
: Non-static method JString::substr() should not be called statically, assuming $this from incompatible context in
/var/www/p5523/data/www/motocycle.ru/administrator/components/com_sh404sef/sh_Net_URL.class.php
on line
302
Strict Standards
: Non-static method JString::substr() should not be called statically, assuming $this from incompatible context in
/var/www/p5523/data/www/motocycle.ru/administrator/components/com_sh404sef/sh_Net_URL.class.php
on line
303
Strict Standards
: Non-static method JString::substr() should not be called statically, assuming $this from incompatible context in
/var/www/p5523/data/www/motocycle.ru/administrator/components/com_sh404sef/sh_Net_URL.class.php
on line
308
Strict Standards
: Non-static method JString::substr() should not be called statically, assuming $this from incompatible context in
/var/www/p5523/data/www/motocycle.ru/administrator/components/com_sh404sef/sh_Net_URL.class.php
on line
302
Strict Standards
: Non-static method JString::substr() should not be called statically, assuming $this from incompatible context in
/var/www/p5523/data/www/motocycle.ru/administrator/components/com_sh404sef/sh_Net_URL.class.php
on line
303
Strict Standards
: Non-static method JString::substr() should not be called statically, assuming $this from incompatible context in
/var/www/p5523/data/www/motocycle.ru/administrator/components/com_sh404sef/sh_Net_URL.class.php
on line
308
Strict Standards
: Non-static method JString::substr() should not be called statically, assuming $this from incompatible context in
/var/www/p5523/data/www/motocycle.ru/administrator/components/com_sh404sef/sh_Net_URL.class.php
on line
302
Strict Standards
: Non-static method JString::substr() should not be called statically, assuming $this from incompatible context in
/var/www/p5523/data/www/motocycle.ru/administrator/components/com_sh404sef/sh_Net_URL.class.php
on line
303
Strict Standards
: Non-static method JString::substr() should not be called statically, assuming $this from incompatible context in
/var/www/p5523/data/www/motocycle.ru/administrator/components/com_sh404sef/sh_Net_URL.class.php
on line
308
Strict Standards
: Non-static method JString::substr() should not be called statically, assuming $this from incompatible context in
/var/www/p5523/data/www/motocycle.ru/administrator/components/com_sh404sef/sh_Net_URL.class.php
on line
302
Strict Standards
: Non-static method JString::substr() should not be called statically, assuming $this from incompatible context in
/var/www/p5523/data/www/motocycle.ru/administrator/components/com_sh404sef/sh_Net_URL.class.php
on line
303
Strict Standards
: Non-static method JString::substr() should not be called statically, assuming $this from incompatible context in
/var/www/p5523/data/www/motocycle.ru/administrator/components/com_sh404sef/sh_Net_URL.class.php
on line
308
Strict Standards
: Non-static method JString::substr() should not be called statically, assuming $this from incompatible context in
/var/www/p5523/data/www/motocycle.ru/administrator/components/com_sh404sef/sh_Net_URL.class.php
on line
302
Strict Standards
: Non-static method JString::substr() should not be called statically, assuming $this from incompatible context in
/var/www/p5523/data/www/motocycle.ru/administrator/components/com_sh404sef/sh_Net_URL.class.php
on line
303
Strict Standards
: Non-static method JString::substr() should not be called statically, assuming $this from incompatible context in
/var/www/p5523/data/www/motocycle.ru/administrator/components/com_sh404sef/sh_Net_URL.class.php
on line
308
Strict Standards
: Non-static method shRouter::shGetConfig() should not be called statically in
/var/www/p5523/data/www/motocycle.ru/administrator/components/com_sh404sef/sh404sef.class.php
on line
1183
Strict Standards
: Non-static method JString::rtrim() should not be called statically in
/var/www/p5523/data/www/motocycle.ru/administrator/components/com_sh404sef/sh404sef.class.php
on line
2033
Strict Standards
: Non-static method JLoader::import() should not be called statically in
/var/www/p5523/data/www/motocycle.ru/libraries/loader.php
on line
186
Strict Standards
: Non-static method shRouter::shGetConfig() should not be called statically in
/var/www/p5523/data/www/motocycle.ru/administrator/components/com_sh404sef/sh404sef.class.php
on line
869
Strict Standards
: Non-static method shRouter::shGetConfig() should not be called statically in
/var/www/p5523/data/www/motocycle.ru/components/com_sh404sef/shCache.php
on line
240
Strict Standards
: Non-static method shRouter::shGetConfig() should not be called statically in
/var/www/p5523/data/www/motocycle.ru/administrator/components/com_sh404sef/sh404sef.class.php
on line
1183
Strict Standards
: Non-static method JString::ltrim() should not be called statically in
/var/www/p5523/data/www/motocycle.ru/administrator/components/com_sh404sef/sh404sef.class.php
on line
1678
Strict Standards
: Non-static method JLoader::import() should not be called statically in
/var/www/p5523/data/www/motocycle.ru/libraries/loader.php
on line
186
Strict Standards
: Non-static method shRouter::shGetConfig() should not be called statically in
/var/www/p5523/data/www/motocycle.ru/administrator/components/com_sh404sef/sh404sef.class.php
on line
364
Strict Standards
: Non-static method JString::substr() should not be called statically, assuming $this from incompatible context in
/var/www/p5523/data/www/motocycle.ru/modules/mod_news_show_gk3/helper.php
on line
602
Strict Standards
: Non-static method JRoute::_() should not be called statically, assuming $this from incompatible context in
/var/www/p5523/data/www/motocycle.ru/modules/mod_news_show_gk3/helper.php
on line
620
Strict Standards
: Non-static method ContentHelperRoute::getArticleRoute() should not be called statically, assuming $this from incompatible context in
/var/www/p5523/data/www/motocycle.ru/modules/mod_news_show_gk3/helper.php
on line
620
Strict Standards
: Non-static method ContentHelperRoute::_findItem() should not be called statically, assuming $this from incompatible context in
/var/www/p5523/data/www/motocycle.ru/components/com_content/helpers/route.php
on line
49
Strict Standards
: Non-static method JComponentHelper::getComponent() should not be called statically, assuming $this from incompatible context in
/var/www/p5523/data/www/motocycle.ru/components/com_content/helpers/route.php
on line
97
Strict Standards
: Non-static method JComponentHelper::_load() should not be called statically, assuming $this from incompatible context in
/var/www/p5523/data/www/motocycle.ru/libraries/joomla/application/component/helper.php
on line
39
Strict Standards
: Non-static method JApplication::getMenu() should not be called statically, assuming $this from incompatible context in
/var/www/p5523/data/www/motocycle.ru/components/com_content/helpers/route.php
on line
99
Strict Standards
: Non-static method JLoader::import() should not be called statically in
/var/www/p5523/data/www/motocycle.ru/libraries/loader.php
on line
186
Strict Standards
: Non-static method JMenu::getInstance() should not be called statically, assuming $this from incompatible context in
/var/www/p5523/data/www/motocycle.ru/libraries/joomla/application/application.php
on line
720
Strict Standards
: Non-static method JError::isError() should not be called statically, assuming $this from incompatible context in
/var/www/p5523/data/www/motocycle.ru/libraries/joomla/application/application.php
on line
721
Strict Standards
: Non-static method JFactory::getApplication() should not be called statically, assuming $this from incompatible context in
/var/www/p5523/data/www/motocycle.ru/libraries/joomla/methods.php
on line
41
Strict Standards
: Non-static method JFactory::getConfig() should not be called statically, assuming $this from incompatible context in
/var/www/p5523/data/www/motocycle.ru/includes/application.php
on line
372
Strict Standards
: Non-static method JLoader::import() should not be called statically in
/var/www/p5523/data/www/motocycle.ru/libraries/loader.php
on line
186
Strict Standards
: Non-static method JRouter::getInstance() should not be called statically, assuming $this from incompatible context in
/var/www/p5523/data/www/motocycle.ru/libraries/joomla/application/application.php
on line
674
Strict Standards
: Non-static method JError::isError() should not be called statically, assuming $this from incompatible context in
/var/www/p5523/data/www/motocycle.ru/libraries/joomla/application/application.php
on line
675
Strict Standards
: Non-static method JString::trim() should not be called statically in
/var/www/p5523/data/www/motocycle.ru/administrator/components/com_sh404sef/sh404sef.class.php
on line
484
Strict Standards
: Non-static method JLoader::import() should not be called statically in
/var/www/p5523/data/www/motocycle.ru/libraries/loader.php
on line
186
Strict Standards
: Non-static method shRouter::shGetConfig() should not be called statically in
/var/www/p5523/data/www/motocycle.ru/administrator/components/com_sh404sef/sh404sef.class.php
on line
1183
Strict Standards
: Non-static method shRouter::shGetConfig() should not be called statically in
/var/www/p5523/data/www/motocycle.ru/administrator/components/com_sh404sef/sh404sef.class.php
on line
1230
Strict Standards
: Non-static method JString::substr() should not be called statically in
/var/www/p5523/data/www/motocycle.ru/administrator/components/com_sh404sef/sh404sef.class.php
on line
1241
Strict Standards
: Non-static method JFactory::getDBO() should not be called statically in
/var/www/p5523/data/www/motocycle.ru/administrator/components/com_sh404sef/sh404sef.class.php
on line
1250
Strict Standards
: Non-static method shRouter::shGetConfig() should not be called statically in
/var/www/p5523/data/www/motocycle.ru/administrator/components/com_sh404sef/sh404sef.class.php
on line
1183
Strict Standards
: Non-static method JString::substr() should not be called statically in
/var/www/p5523/data/www/motocycle.ru/administrator/components/com_sh404sef/sh404sef.class.php
on line
1273
Strict Standards
: Non-static method JString::ltrim() should not be called statically in
/var/www/p5523/data/www/motocycle.ru/administrator/components/com_sh404sef/sh404sef.class.php
on line
1307
Strict Standards
: Non-static method JLoader::import() should not be called statically in
/var/www/p5523/data/www/motocycle.ru/libraries/loader.php
on line
186
Strict Standards
: Non-static method JString::substr() should not be called statically in
/var/www/p5523/data/www/motocycle.ru/administrator/components/com_sh404sef/sh404sef.class.php
on line
1312
Strict Standards
: Non-static method JFactory::getDBO() should not be called statically in
/var/www/p5523/data/www/motocycle.ru/administrator/components/com_sh404sef/sh404sef.class.php
on line
980
Strict Standards
: Non-static method JString::substr() should not be called statically in
/var/www/p5523/data/www/motocycle.ru/administrator/components/com_sh404sef/sh404sef.class.php
on line
1357
Strict Standards
: Non-static method JString::substr() should not be called statically in
/var/www/p5523/data/www/motocycle.ru/administrator/components/com_sh404sef/sh404sef.class.php
on line
1370
Strict Standards
: Non-static method JFactory::getDBO() should not be called statically in
/var/www/p5523/data/www/motocycle.ru/administrator/components/com_sh404sef/sh404sef.class.php
on line
980
Strict Standards
: Non-static method JString::substr() should not be called statically, assuming $this from incompatible context in
/var/www/p5523/data/www/motocycle.ru/administrator/components/com_sh404sef/sh_Net_URL.class.php
on line
302
Strict Standards
: Non-static method JString::substr() should not be called statically, assuming $this from incompatible context in
/var/www/p5523/data/www/motocycle.ru/administrator/components/com_sh404sef/sh_Net_URL.class.php
on line
303
Strict Standards
: Non-static method JString::substr() should not be called statically, assuming $this from incompatible context in
/var/www/p5523/data/www/motocycle.ru/administrator/components/com_sh404sef/sh_Net_URL.class.php
on line
308
Strict Standards
: Non-static method JString::substr() should not be called statically, assuming $this from incompatible context in
/var/www/p5523/data/www/motocycle.ru/administrator/components/com_sh404sef/sh_Net_URL.class.php
on line
302
Strict Standards
: Non-static method JString::substr() should not be called statically, assuming $this from incompatible context in
/var/www/p5523/data/www/motocycle.ru/administrator/components/com_sh404sef/sh_Net_URL.class.php
on line
303
Strict Standards
: Non-static method JString::substr() should not be called statically, assuming $this from incompatible context in
/var/www/p5523/data/www/motocycle.ru/administrator/components/com_sh404sef/sh_Net_URL.class.php
on line
308
Strict Standards
: Non-static method JString::substr() should not be called statically, assuming $this from incompatible context in
/var/www/p5523/data/www/motocycle.ru/administrator/components/com_sh404sef/sh_Net_URL.class.php
on line
302
Strict Standards
: Non-static method JString::substr() should not be called statically, assuming $this from incompatible context in
/var/www/p5523/data/www/motocycle.ru/administrator/components/com_sh404sef/sh_Net_URL.class.php
on line
303
Strict Standards
: Non-static method JString::substr() should not be called statically, assuming $this from incompatible context in
/var/www/p5523/data/www/motocycle.ru/administrator/components/com_sh404sef/sh_Net_URL.class.php
on line
308
Strict Standards
: Non-static method JString::substr() should not be called statically, assuming $this from incompatible context in
/var/www/p5523/data/www/motocycle.ru/administrator/components/com_sh404sef/sh_Net_URL.class.php
on line
302
Strict Standards
: Non-static method JString::substr() should not be called statically, assuming $this from incompatible context in
/var/www/p5523/data/www/motocycle.ru/administrator/components/com_sh404sef/sh_Net_URL.class.php
on line
303
Strict Standards
: Non-static method JString::substr() should not be called statically, assuming $this from incompatible context in
/var/www/p5523/data/www/motocycle.ru/administrator/components/com_sh404sef/sh_Net_URL.class.php
on line
308
Strict Standards
: Non-static method JString::substr() should not be called statically, assuming $this from incompatible context in
/var/www/p5523/data/www/motocycle.ru/administrator/components/com_sh404sef/sh_Net_URL.class.php
on line
302
Strict Standards
: Non-static method JString::substr() should not be called statically, assuming $this from incompatible context in
/var/www/p5523/data/www/motocycle.ru/administrator/components/com_sh404sef/sh_Net_URL.class.php
on line
303
Strict Standards
: Non-static method JString::substr() should not be called statically, assuming $this from incompatible context in
/var/www/p5523/data/www/motocycle.ru/administrator/components/com_sh404sef/sh_Net_URL.class.php
on line
308
Strict Standards
: Non-static method JString::substr() should not be called statically, assuming $this from incompatible context in
/var/www/p5523/data/www/motocycle.ru/administrator/components/com_sh404sef/sh_Net_URL.class.php
on line
302
Strict Standards
: Non-static method JString::substr() should not be called statically, assuming $this from incompatible context in
/var/www/p5523/data/www/motocycle.ru/administrator/components/com_sh404sef/sh_Net_URL.class.php
on line
303
Strict Standards
: Non-static method JString::substr() should not be called statically, assuming $this from incompatible context in
/var/www/p5523/data/www/motocycle.ru/administrator/components/com_sh404sef/sh_Net_URL.class.php
on line
308
Strict Standards
: Non-static method JString::substr() should not be called statically, assuming $this from incompatible context in
/var/www/p5523/data/www/motocycle.ru/administrator/components/com_sh404sef/sh_Net_URL.class.php
on line
302
Strict Standards
: Non-static method JString::substr() should not be called statically, assuming $this from incompatible context in
/var/www/p5523/data/www/motocycle.ru/administrator/components/com_sh404sef/sh_Net_URL.class.php
on line
303
Strict Standards
: Non-static method JString::substr() should not be called statically, assuming $this from incompatible context in
/var/www/p5523/data/www/motocycle.ru/administrator/components/com_sh404sef/sh_Net_URL.class.php
on line
308
Strict Standards
: Non-static method JString::substr() should not be called statically, assuming $this from incompatible context in
/var/www/p5523/data/www/motocycle.ru/administrator/components/com_sh404sef/sh_Net_URL.class.php
on line
302
Strict Standards
: Non-static method JString::substr() should not be called statically, assuming $this from incompatible context in
/var/www/p5523/data/www/motocycle.ru/administrator/components/com_sh404sef/sh_Net_URL.class.php
on line
303
Strict Standards
: Non-static method JString::substr() should not be called statically, assuming $this from incompatible context in
/var/www/p5523/data/www/motocycle.ru/administrator/components/com_sh404sef/sh_Net_URL.class.php
on line
308
Strict Standards
: Non-static method JString::substr() should not be called statically, assuming $this from incompatible context in
/var/www/p5523/data/www/motocycle.ru/administrator/components/com_sh404sef/sh_Net_URL.class.php
on line
302
Strict Standards
: Non-static method JString::substr() should not be called statically, assuming $this from incompatible context in
/var/www/p5523/data/www/motocycle.ru/administrator/components/com_sh404sef/sh_Net_URL.class.php
on line
303
Strict Standards
: Non-static method JString::substr() should not be called statically, assuming $this from incompatible context in
/var/www/p5523/data/www/motocycle.ru/administrator/components/com_sh404sef/sh_Net_URL.class.php
on line
308
Strict Standards
: Non-static method JString::substr() should not be called statically, assuming $this from incompatible context in
/var/www/p5523/data/www/motocycle.ru/administrator/components/com_sh404sef/sh_Net_URL.class.php
on line
302
Strict Standards
: Non-static method JString::substr() should not be called statically, assuming $this from incompatible context in
/var/www/p5523/data/www/motocycle.ru/administrator/components/com_sh404sef/sh_Net_URL.class.php
on line
303
Strict Standards
: Non-static method JString::substr() should not be called statically, assuming $this from incompatible context in
/var/www/p5523/data/www/motocycle.ru/administrator/components/com_sh404sef/sh_Net_URL.class.php
on line
308
Strict Standards
: Non-static method JString::substr() should not be called statically, assuming $this from incompatible context in
/var/www/p5523/data/www/motocycle.ru/administrator/components/com_sh404sef/sh_Net_URL.class.php
on line
302
Strict Standards
: Non-static method JString::substr() should not be called statically, assuming $this from incompatible context in
/var/www/p5523/data/www/motocycle.ru/administrator/components/com_sh404sef/sh_Net_URL.class.php
on line
303
Strict Standards
: Non-static method JString::substr() should not be called statically, assuming $this from incompatible context in
/var/www/p5523/data/www/motocycle.ru/administrator/components/com_sh404sef/sh_Net_URL.class.php
on line
308
Strict Standards
: Non-static method JString::substr() should not be called statically, assuming $this from incompatible context in
/var/www/p5523/data/www/motocycle.ru/administrator/components/com_sh404sef/sh_Net_URL.class.php
on line
302
Strict Standards
: Non-static method JString::substr() should not be called statically, assuming $this from incompatible context in
/var/www/p5523/data/www/motocycle.ru/administrator/components/com_sh404sef/sh_Net_URL.class.php
on line
303
Strict Standards
: Non-static method JString::substr() should not be called statically, assuming $this from incompatible context in
/var/www/p5523/data/www/motocycle.ru/administrator/components/com_sh404sef/sh_Net_URL.class.php
on line
308
Strict Standards
: Non-static method shRouter::shGetConfig() should not be called statically in
/var/www/p5523/data/www/motocycle.ru/administrator/components/com_sh404sef/sh404sef.class.php
on line
1183
Strict Standards
: Non-static method shRouter::shGetConfig() should not be called statically in
/var/www/p5523/data/www/motocycle.ru/administrator/components/com_sh404sef/sh404sef.class.php
on line
869
Strict Standards
: Non-static method shRouter::shGetConfig() should not be called statically in
/var/www/p5523/data/www/motocycle.ru/components/com_sh404sef/shCache.php
on line
240
Strict Standards
: Non-static method shRouter::shGetConfig() should not be called statically in
/var/www/p5523/data/www/motocycle.ru/administrator/components/com_sh404sef/sh404sef.class.php
on line
1183
Strict Standards
: Non-static method JString::ltrim() should not be called statically in
/var/www/p5523/data/www/motocycle.ru/administrator/components/com_sh404sef/sh404sef.class.php
on line
1678
Strict Standards
: Non-static method JLoader::import() should not be called statically in
/var/www/p5523/data/www/motocycle.ru/libraries/loader.php
on line
186
Strict Standards
: Non-static method shRouter::shGetConfig() should not be called statically in
/var/www/p5523/data/www/motocycle.ru/administrator/components/com_sh404sef/sh404sef.class.php
on line
364
Strict Standards
: Non-static method JString::strpos() should not be called statically, assuming $this from incompatible context in
/var/www/p5523/data/www/motocycle.ru/modules/mod_news_show_gk3/helper.php
on line
625
Strict Standards
: Non-static method JString::strpos() should not be called statically, assuming $this from incompatible context in
/var/www/p5523/data/www/motocycle.ru/modules/mod_news_show_gk3/helper.php
on line
629
Strict Standards
: Non-static method JString::substr() should not be called statically, assuming $this from incompatible context in
/var/www/p5523/data/www/motocycle.ru/modules/mod_news_show_gk3/helper.php
on line
634
Strict Standards
: Non-static method JString::strlen() should not be called statically, assuming $this from incompatible context in
/var/www/p5523/data/www/motocycle.ru/modules/mod_news_show_gk3/helper.php
on line
799
Strict Standards
: Non-static method JString::strlen() should not be called statically, assuming $this from incompatible context in
/var/www/p5523/data/www/motocycle.ru/modules/mod_news_show_gk3/helper.php
on line
802
Strict Standards
: Non-static method JString::substr() should not be called statically, assuming $this from incompatible context in
/var/www/p5523/data/www/motocycle.ru/modules/mod_news_show_gk3/helper.php
on line
805
Strict Standards
: Non-static method JRoute::_() should not be called statically, assuming $this from incompatible context in
/var/www/p5523/data/www/motocycle.ru/modules/mod_news_show_gk3/helper.php
on line
602
Strict Standards
: Non-static method ContentHelperRoute::getArticleRoute() should not be called statically, assuming $this from incompatible context in
/var/www/p5523/data/www/motocycle.ru/modules/mod_news_show_gk3/helper.php
on line
602
Strict Standards
: Non-static method ContentHelperRoute::_findItem() should not be called statically, assuming $this from incompatible context in
/var/www/p5523/data/www/motocycle.ru/components/com_content/helpers/route.php
on line
49
Strict Standards
: Non-static method JComponentHelper::getComponent() should not be called statically, assuming $this from incompatible context in
/var/www/p5523/data/www/motocycle.ru/components/com_content/helpers/route.php
on line
97
Strict Standards
: Non-static method JComponentHelper::_load() should not be called statically, assuming $this from incompatible context in
/var/www/p5523/data/www/motocycle.ru/libraries/joomla/application/component/helper.php
on line
39
Strict Standards
: Non-static method JApplication::getMenu() should not be called statically, assuming $this from incompatible context in
/var/www/p5523/data/www/motocycle.ru/components/com_content/helpers/route.php
on line
99
Strict Standards
: Non-static method JLoader::import() should not be called statically in
/var/www/p5523/data/www/motocycle.ru/libraries/loader.php
on line
186
Strict Standards
: Non-static method JMenu::getInstance() should not be called statically, assuming $this from incompatible context in
/var/www/p5523/data/www/motocycle.ru/libraries/joomla/application/application.php
on line
720
Strict Standards
: Non-static method JError::isError() should not be called statically, assuming $this from incompatible context in
/var/www/p5523/data/www/motocycle.ru/libraries/joomla/application/application.php
on line
721
Strict Standards
: Non-static method JFactory::getApplication() should not be called statically, assuming $this from incompatible context in
/var/www/p5523/data/www/motocycle.ru/libraries/joomla/methods.php
on line
41
Strict Standards
: Non-static method JFactory::getConfig() should not be called statically, assuming $this from incompatible context in
/var/www/p5523/data/www/motocycle.ru/includes/application.php
on line
372
Strict Standards
: Non-static method JLoader::import() should not be called statically in
/var/www/p5523/data/www/motocycle.ru/libraries/loader.php
on line
186
Strict Standards
: Non-static method JRouter::getInstance() should not be called statically, assuming $this from incompatible context in
/var/www/p5523/data/www/motocycle.ru/libraries/joomla/application/application.php
on line
674
Strict Standards
: Non-static method JError::isError() should not be called statically, assuming $this from incompatible context in
/var/www/p5523/data/www/motocycle.ru/libraries/joomla/application/application.php
on line
675
Strict Standards
: Non-static method JString::trim() should not be called statically in
/var/www/p5523/data/www/motocycle.ru/administrator/components/com_sh404sef/sh404sef.class.php
on line
484
Strict Standards
: Non-static method JLoader::import() should not be called statically in
/var/www/p5523/data/www/motocycle.ru/libraries/loader.php
on line
186
Strict Standards
: Non-static method shRouter::shGetConfig() should not be called statically in
/var/www/p5523/data/www/motocycle.ru/administrator/components/com_sh404sef/sh404sef.class.php
on line
1183
Strict Standards
: Non-static method shRouter::shGetConfig() should not be called statically in
/var/www/p5523/data/www/motocycle.ru/administrator/components/com_sh404sef/sh404sef.class.php
on line
1230
Strict Standards
: Non-static method JString::substr() should not be called statically in
/var/www/p5523/data/www/motocycle.ru/administrator/components/com_sh404sef/sh404sef.class.php
on line
1241
Strict Standards
: Non-static method JFactory::getDBO() should not be called statically in
/var/www/p5523/data/www/motocycle.ru/administrator/components/com_sh404sef/sh404sef.class.php
on line
1250
Strict Standards
: Non-static method shRouter::shGetConfig() should not be called statically in
/var/www/p5523/data/www/motocycle.ru/administrator/components/com_sh404sef/sh404sef.class.php
on line
1183
Strict Standards
: Non-static method JString::substr() should not be called statically in
/var/www/p5523/data/www/motocycle.ru/administrator/components/com_sh404sef/sh404sef.class.php
on line
1273
Strict Standards
: Non-static method JString::ltrim() should not be called statically in
/var/www/p5523/data/www/motocycle.ru/administrator/components/com_sh404sef/sh404sef.class.php
on line
1307
Strict Standards
: Non-static method JLoader::import() should not be called statically in
/var/www/p5523/data/www/motocycle.ru/libraries/loader.php
on line
186
Strict Standards
: Non-static method JString::substr() should not be called statically in
/var/www/p5523/data/www/motocycle.ru/administrator/components/com_sh404sef/sh404sef.class.php
on line
1312
Strict Standards
: Non-static method JFactory::getDBO() should not be called statically in
/var/www/p5523/data/www/motocycle.ru/administrator/components/com_sh404sef/sh404sef.class.php
on line
980
Strict Standards
: Non-static method JString::substr() should not be called statically in
/var/www/p5523/data/www/motocycle.ru/administrator/components/com_sh404sef/sh404sef.class.php
on line
1357
Strict Standards
: Non-static method JString::substr() should not be called statically in
/var/www/p5523/data/www/motocycle.ru/administrator/components/com_sh404sef/sh404sef.class.php
on line
1370
Strict Standards
: Non-static method JFactory::getDBO() should not be called statically in
/var/www/p5523/data/www/motocycle.ru/administrator/components/com_sh404sef/sh404sef.class.php
on line
980
Strict Standards
: Non-static method JString::substr() should not be called statically, assuming $this from incompatible context in
/var/www/p5523/data/www/motocycle.ru/administrator/components/com_sh404sef/sh_Net_URL.class.php
on line
302
Strict Standards
: Non-static method JString::substr() should not be called statically, assuming $this from incompatible context in
/var/www/p5523/data/www/motocycle.ru/administrator/components/com_sh404sef/sh_Net_URL.class.php
on line
303
Strict Standards
: Non-static method JString::substr() should not be called statically, assuming $this from incompatible context in
/var/www/p5523/data/www/motocycle.ru/administrator/components/com_sh404sef/sh_Net_URL.class.php
on line
308
Strict Standards
: Non-static method JString::substr() should not be called statically, assuming $this from incompatible context in
/var/www/p5523/data/www/motocycle.ru/administrator/components/com_sh404sef/sh_Net_URL.class.php
on line
302
Strict Standards
: Non-static method JString::substr() should not be called statically, assuming $this from incompatible context in
/var/www/p5523/data/www/motocycle.ru/administrator/components/com_sh404sef/sh_Net_URL.class.php
on line
303
Strict Standards
: Non-static method JString::substr() should not be called statically, assuming $this from incompatible context in
/var/www/p5523/data/www/motocycle.ru/administrator/components/com_sh404sef/sh_Net_URL.class.php
on line
308
Strict Standards
: Non-static method JString::substr() should not be called statically, assuming $this from incompatible context in
/var/www/p5523/data/www/motocycle.ru/administrator/components/com_sh404sef/sh_Net_URL.class.php
on line
302
Strict Standards
: Non-static method JString::substr() should not be called statically, assuming $this from incompatible context in
/var/www/p5523/data/www/motocycle.ru/administrator/components/com_sh404sef/sh_Net_URL.class.php
on line
303
Strict Standards
: Non-static method JString::substr() should not be called statically, assuming $this from incompatible context in
/var/www/p5523/data/www/motocycle.ru/administrator/components/com_sh404sef/sh_Net_URL.class.php
on line
308
Strict Standards
: Non-static method JString::substr() should not be called statically, assuming $this from incompatible context in
/var/www/p5523/data/www/motocycle.ru/administrator/components/com_sh404sef/sh_Net_URL.class.php
on line
302
Strict Standards
: Non-static method JString::substr() should not be called statically, assuming $this from incompatible context in
/var/www/p5523/data/www/motocycle.ru/administrator/components/com_sh404sef/sh_Net_URL.class.php
on line
303
Strict Standards
: Non-static method JString::substr() should not be called statically, assuming $this from incompatible context in
/var/www/p5523/data/www/motocycle.ru/administrator/components/com_sh404sef/sh_Net_URL.class.php
on line
308
Strict Standards
: Non-static method JString::substr() should not be called statically, assuming $this from incompatible context in
/var/www/p5523/data/www/motocycle.ru/administrator/components/com_sh404sef/sh_Net_URL.class.php
on line
302
Strict Standards
: Non-static method JString::substr() should not be called statically, assuming $this from incompatible context in
/var/www/p5523/data/www/motocycle.ru/administrator/components/com_sh404sef/sh_Net_URL.class.php
on line
303
Strict Standards
: Non-static method JString::substr() should not be called statically, assuming $this from incompatible context in
/var/www/p5523/data/www/motocycle.ru/administrator/components/com_sh404sef/sh_Net_URL.class.php
on line
308
Strict Standards
: Non-static method JString::substr() should not be called statically, assuming $this from incompatible context in
/var/www/p5523/data/www/motocycle.ru/administrator/components/com_sh404sef/sh_Net_URL.class.php
on line
302
Strict Standards
: Non-static method JString::substr() should not be called statically, assuming $this from incompatible context in
/var/www/p5523/data/www/motocycle.ru/administrator/components/com_sh404sef/sh_Net_URL.class.php
on line
303
Strict Standards
: Non-static method JString::substr() should not be called statically, assuming $this from incompatible context in
/var/www/p5523/data/www/motocycle.ru/administrator/components/com_sh404sef/sh_Net_URL.class.php
on line
308
Strict Standards
: Non-static method JString::substr() should not be called statically, assuming $this from incompatible context in
/var/www/p5523/data/www/motocycle.ru/administrator/components/com_sh404sef/sh_Net_URL.class.php
on line
302
Strict Standards
: Non-static method JString::substr() should not be called statically, assuming $this from incompatible context in
/var/www/p5523/data/www/motocycle.ru/administrator/components/com_sh404sef/sh_Net_URL.class.php
on line
303
Strict Standards
: Non-static method JString::substr() should not be called statically, assuming $this from incompatible context in
/var/www/p5523/data/www/motocycle.ru/administrator/components/com_sh404sef/sh_Net_URL.class.php
on line
308
Strict Standards
: Non-static method JString::substr() should not be called statically, assuming $this from incompatible context in
/var/www/p5523/data/www/motocycle.ru/administrator/components/com_sh404sef/sh_Net_URL.class.php
on line
302
Strict Standards
: Non-static method JString::substr() should not be called statically, assuming $this from incompatible context in
/var/www/p5523/data/www/motocycle.ru/administrator/components/com_sh404sef/sh_Net_URL.class.php
on line
303
Strict Standards
: Non-static method JString::substr() should not be called statically, assuming $this from incompatible context in
/var/www/p5523/data/www/motocycle.ru/administrator/components/com_sh404sef/sh_Net_URL.class.php
on line
308
Strict Standards
: Non-static method JString::substr() should not be called statically, assuming $this from incompatible context in
/var/www/p5523/data/www/motocycle.ru/administrator/components/com_sh404sef/sh_Net_URL.class.php
on line
302
Strict Standards
: Non-static method JString::substr() should not be called statically, assuming $this from incompatible context in
/var/www/p5523/data/www/motocycle.ru/administrator/components/com_sh404sef/sh_Net_URL.class.php
on line
303
Strict Standards
: Non-static method JString::substr() should not be called statically, assuming $this from incompatible context in
/var/www/p5523/data/www/motocycle.ru/administrator/components/com_sh404sef/sh_Net_URL.class.php
on line
308
Strict Standards
: Non-static method JString::substr() should not be called statically, assuming $this from incompatible context in
/var/www/p5523/data/www/motocycle.ru/administrator/components/com_sh404sef/sh_Net_URL.class.php
on line
302
Strict Standards
: Non-static method JString::substr() should not be called statically, assuming $this from incompatible context in
/var/www/p5523/data/www/motocycle.ru/administrator/components/com_sh404sef/sh_Net_URL.class.php
on line
303
Strict Standards
: Non-static method JString::substr() should not be called statically, assuming $this from incompatible context in
/var/www/p5523/data/www/motocycle.ru/administrator/components/com_sh404sef/sh_Net_URL.class.php
on line
308
Strict Standards
: Non-static method JString::substr() should not be called statically, assuming $this from incompatible context in
/var/www/p5523/data/www/motocycle.ru/administrator/components/com_sh404sef/sh_Net_URL.class.php
on line
302
Strict Standards
: Non-static method JString::substr() should not be called statically, assuming $this from incompatible context in
/var/www/p5523/data/www/motocycle.ru/administrator/components/com_sh404sef/sh_Net_URL.class.php
on line
303
Strict Standards
: Non-static method JString::substr() should not be called statically, assuming $this from incompatible context in
/var/www/p5523/data/www/motocycle.ru/administrator/components/com_sh404sef/sh_Net_URL.class.php
on line
308
Strict Standards
: Non-static method JString::substr() should not be called statically, assuming $this from incompatible context in
/var/www/p5523/data/www/motocycle.ru/administrator/components/com_sh404sef/sh_Net_URL.class.php
on line
302
Strict Standards
: Non-static method JString::substr() should not be called statically, assuming $this from incompatible context in
/var/www/p5523/data/www/motocycle.ru/administrator/components/com_sh404sef/sh_Net_URL.class.php
on line
303
Strict Standards
: Non-static method JString::substr() should not be called statically, assuming $this from incompatible context in
/var/www/p5523/data/www/motocycle.ru/administrator/components/com_sh404sef/sh_Net_URL.class.php
on line
308
Strict Standards
: Non-static method shRouter::shGetConfig() should not be called statically in
/var/www/p5523/data/www/motocycle.ru/administrator/components/com_sh404sef/sh404sef.class.php
on line
1183
Strict Standards
: Non-static method JString::rtrim() should not be called statically in
/var/www/p5523/data/www/motocycle.ru/administrator/components/com_sh404sef/sh404sef.class.php
on line
2033
Strict Standards
: Non-static method JLoader::import() should not be called statically in
/var/www/p5523/data/www/motocycle.ru/libraries/loader.php
on line
186
Strict Standards
: Non-static method shRouter::shGetConfig() should not be called statically in
/var/www/p5523/data/www/motocycle.ru/administrator/components/com_sh404sef/sh404sef.class.php
on line
869
Strict Standards
: Non-static method shRouter::shGetConfig() should not be called statically in
/var/www/p5523/data/www/motocycle.ru/components/com_sh404sef/shCache.php
on line
240
Strict Standards
: Non-static method shRouter::shGetConfig() should not be called statically in
/var/www/p5523/data/www/motocycle.ru/administrator/components/com_sh404sef/sh404sef.class.php
on line
1183
Strict Standards
: Non-static method JString::ltrim() should not be called statically in
/var/www/p5523/data/www/motocycle.ru/administrator/components/com_sh404sef/sh404sef.class.php
on line
1678
Strict Standards
: Non-static method JLoader::import() should not be called statically in
/var/www/p5523/data/www/motocycle.ru/libraries/loader.php
on line
186
Strict Standards
: Non-static method shRouter::shGetConfig() should not be called statically in
/var/www/p5523/data/www/motocycle.ru/administrator/components/com_sh404sef/sh404sef.class.php
on line
364
Strict Standards
: Non-static method JString::substr() should not be called statically, assuming $this from incompatible context in
/var/www/p5523/data/www/motocycle.ru/modules/mod_news_show_gk3/helper.php
on line
602
Strict Standards
: Non-static method JRoute::_() should not be called statically, assuming $this from incompatible context in
/var/www/p5523/data/www/motocycle.ru/modules/mod_news_show_gk3/helper.php
on line
620
Strict Standards
: Non-static method ContentHelperRoute::getArticleRoute() should not be called statically, assuming $this from incompatible context in
/var/www/p5523/data/www/motocycle.ru/modules/mod_news_show_gk3/helper.php
on line
620
Strict Standards
: Non-static method ContentHelperRoute::_findItem() should not be called statically, assuming $this from incompatible context in
/var/www/p5523/data/www/motocycle.ru/components/com_content/helpers/route.php
on line
49
Strict Standards
: Non-static method JComponentHelper::getComponent() should not be called statically, assuming $this from incompatible context in
/var/www/p5523/data/www/motocycle.ru/components/com_content/helpers/route.php
on line
97
Strict Standards
: Non-static method JComponentHelper::_load() should not be called statically, assuming $this from incompatible context in
/var/www/p5523/data/www/motocycle.ru/libraries/joomla/application/component/helper.php
on line
39
Strict Standards
: Non-static method JApplication::getMenu() should not be called statically, assuming $this from incompatible context in
/var/www/p5523/data/www/motocycle.ru/components/com_content/helpers/route.php
on line
99
Strict Standards
: Non-static method JLoader::import() should not be called statically in
/var/www/p5523/data/www/motocycle.ru/libraries/loader.php
on line
186
Strict Standards
: Non-static method JMenu::getInstance() should not be called statically, assuming $this from incompatible context in
/var/www/p5523/data/www/motocycle.ru/libraries/joomla/application/application.php
on line
720
Strict Standards
: Non-static method JError::isError() should not be called statically, assuming $this from incompatible context in
/var/www/p5523/data/www/motocycle.ru/libraries/joomla/application/application.php
on line
721
Strict Standards
: Non-static method JFactory::getApplication() should not be called statically, assuming $this from incompatible context in
/var/www/p5523/data/www/motocycle.ru/libraries/joomla/methods.php
on line
41
Strict Standards
: Non-static method JFactory::getConfig() should not be called statically, assuming $this from incompatible context in
/var/www/p5523/data/www/motocycle.ru/includes/application.php
on line
372
Strict Standards
: Non-static method JLoader::import() should not be called statically in
/var/www/p5523/data/www/motocycle.ru/libraries/loader.php
on line
186
Strict Standards
: Non-static method JRouter::getInstance() should not be called statically, assuming $this from incompatible context in
/var/www/p5523/data/www/motocycle.ru/libraries/joomla/application/application.php
on line
674
Strict Standards
: Non-static method JError::isError() should not be called statically, assuming $this from incompatible context in
/var/www/p5523/data/www/motocycle.ru/libraries/joomla/application/application.php
on line
675
Strict Standards
: Non-static method JString::trim() should not be called statically in
/var/www/p5523/data/www/motocycle.ru/administrator/components/com_sh404sef/sh404sef.class.php
on line
484
Strict Standards
: Non-static method JLoader::import() should not be called statically in
/var/www/p5523/data/www/motocycle.ru/libraries/loader.php
on line
186
Strict Standards
: Non-static method shRouter::shGetConfig() should not be called statically in
/var/www/p5523/data/www/motocycle.ru/administrator/components/com_sh404sef/sh404sef.class.php
on line
1183
Strict Standards
: Non-static method shRouter::shGetConfig() should not be called statically in
/var/www/p5523/data/www/motocycle.ru/administrator/components/com_sh404sef/sh404sef.class.php
on line
1230
Strict Standards
: Non-static method JString::substr() should not be called statically in
/var/www/p5523/data/www/motocycle.ru/administrator/components/com_sh404sef/sh404sef.class.php
on line
1241
Strict Standards
: Non-static method JFactory::getDBO() should not be called statically in
/var/www/p5523/data/www/motocycle.ru/administrator/components/com_sh404sef/sh404sef.class.php
on line
1250
Strict Standards
: Non-static method shRouter::shGetConfig() should not be called statically in
/var/www/p5523/data/www/motocycle.ru/administrator/components/com_sh404sef/sh404sef.class.php
on line
1183
Strict Standards
: Non-static method JString::substr() should not be called statically in
/var/www/p5523/data/www/motocycle.ru/administrator/components/com_sh404sef/sh404sef.class.php
on line
1273
Strict Standards
: Non-static method JString::ltrim() should not be called statically in
/var/www/p5523/data/www/motocycle.ru/administrator/components/com_sh404sef/sh404sef.class.php
on line
1307
Strict Standards
: Non-static method JLoader::import() should not be called statically in
/var/www/p5523/data/www/motocycle.ru/libraries/loader.php
on line
186
Strict Standards
: Non-static method JString::substr() should not be called statically in
/var/www/p5523/data/www/motocycle.ru/administrator/components/com_sh404sef/sh404sef.class.php
on line
1312
Strict Standards
: Non-static method JFactory::getDBO() should not be called statically in
/var/www/p5523/data/www/motocycle.ru/administrator/components/com_sh404sef/sh404sef.class.php
on line
980
Strict Standards
: Non-static method JString::substr() should not be called statically in
/var/www/p5523/data/www/motocycle.ru/administrator/components/com_sh404sef/sh404sef.class.php
on line
1357
Strict Standards
: Non-static method JString::substr() should not be called statically in
/var/www/p5523/data/www/motocycle.ru/administrator/components/com_sh404sef/sh404sef.class.php
on line
1370
Strict Standards
: Non-static method JFactory::getDBO() should not be called statically in
/var/www/p5523/data/www/motocycle.ru/administrator/components/com_sh404sef/sh404sef.class.php
on line
980
Strict Standards
: Non-static method JString::substr() should not be called statically, assuming $this from incompatible context in
/var/www/p5523/data/www/motocycle.ru/administrator/components/com_sh404sef/sh_Net_URL.class.php
on line
302
Strict Standards
: Non-static method JString::substr() should not be called statically, assuming $this from incompatible context in
/var/www/p5523/data/www/motocycle.ru/administrator/components/com_sh404sef/sh_Net_URL.class.php
on line
303
Strict Standards
: Non-static method JString::substr() should not be called statically, assuming $this from incompatible context in
/var/www/p5523/data/www/motocycle.ru/administrator/components/com_sh404sef/sh_Net_URL.class.php
on line
308
Strict Standards
: Non-static method JString::substr() should not be called statically, assuming $this from incompatible context in
/var/www/p5523/data/www/motocycle.ru/administrator/components/com_sh404sef/sh_Net_URL.class.php
on line
302
Strict Standards
: Non-static method JString::substr() should not be called statically, assuming $this from incompatible context in
/var/www/p5523/data/www/motocycle.ru/administrator/components/com_sh404sef/sh_Net_URL.class.php
on line
303
Strict Standards
: Non-static method JString::substr() should not be called statically, assuming $this from incompatible context in
/var/www/p5523/data/www/motocycle.ru/administrator/components/com_sh404sef/sh_Net_URL.class.php
on line
308
Strict Standards
: Non-static method JString::substr() should not be called statically, assuming $this from incompatible context in
/var/www/p5523/data/www/motocycle.ru/administrator/components/com_sh404sef/sh_Net_URL.class.php
on line
302
Strict Standards
: Non-static method JString::substr() should not be called statically, assuming $this from incompatible context in
/var/www/p5523/data/www/motocycle.ru/administrator/components/com_sh404sef/sh_Net_URL.class.php
on line
303
Strict Standards
: Non-static method JString::substr() should not be called statically, assuming $this from incompatible context in
/var/www/p5523/data/www/motocycle.ru/administrator/components/com_sh404sef/sh_Net_URL.class.php
on line
308
Strict Standards
: Non-static method JString::substr() should not be called statically, assuming $this from incompatible context in
/var/www/p5523/data/www/motocycle.ru/administrator/components/com_sh404sef/sh_Net_URL.class.php
on line
302
Strict Standards
: Non-static method JString::substr() should not be called statically, assuming $this from incompatible context in
/var/www/p5523/data/www/motocycle.ru/administrator/components/com_sh404sef/sh_Net_URL.class.php
on line
303
Strict Standards
: Non-static method JString::substr() should not be called statically, assuming $this from incompatible context in
/var/www/p5523/data/www/motocycle.ru/administrator/components/com_sh404sef/sh_Net_URL.class.php
on line
308
Strict Standards
: Non-static method JString::substr() should not be called statically, assuming $this from incompatible context in
/var/www/p5523/data/www/motocycle.ru/administrator/components/com_sh404sef/sh_Net_URL.class.php
on line
302
Strict Standards
: Non-static method JString::substr() should not be called statically, assuming $this from incompatible context in
/var/www/p5523/data/www/motocycle.ru/administrator/components/com_sh404sef/sh_Net_URL.class.php
on line
303
Strict Standards
: Non-static method JString::substr() should not be called statically, assuming $this from incompatible context in
/var/www/p5523/data/www/motocycle.ru/administrator/components/com_sh404sef/sh_Net_URL.class.php
on line
308
Strict Standards
: Non-static method JString::substr() should not be called statically, assuming $this from incompatible context in
/var/www/p5523/data/www/motocycle.ru/administrator/components/com_sh404sef/sh_Net_URL.class.php
on line
302
Strict Standards
: Non-static method JString::substr() should not be called statically, assuming $this from incompatible context in
/var/www/p5523/data/www/motocycle.ru/administrator/components/com_sh404sef/sh_Net_URL.class.php
on line
303
Strict Standards
: Non-static method JString::substr() should not be called statically, assuming $this from incompatible context in
/var/www/p5523/data/www/motocycle.ru/administrator/components/com_sh404sef/sh_Net_URL.class.php
on line
308
Strict Standards
: Non-static method JString::substr() should not be called statically, assuming $this from incompatible context in
/var/www/p5523/data/www/motocycle.ru/administrator/components/com_sh404sef/sh_Net_URL.class.php
on line
302
Strict Standards
: Non-static method JString::substr() should not be called statically, assuming $this from incompatible context in
/var/www/p5523/data/www/motocycle.ru/administrator/components/com_sh404sef/sh_Net_URL.class.php
on line
303
Strict Standards
: Non-static method JString::substr() should not be called statically, assuming $this from incompatible context in
/var/www/p5523/data/www/motocycle.ru/administrator/components/com_sh404sef/sh_Net_URL.class.php
on line
308
Strict Standards
: Non-static method JString::substr() should not be called statically, assuming $this from incompatible context in
/var/www/p5523/data/www/motocycle.ru/administrator/components/com_sh404sef/sh_Net_URL.class.php
on line
302
Strict Standards
: Non-static method JString::substr() should not be called statically, assuming $this from incompatible context in
/var/www/p5523/data/www/motocycle.ru/administrator/components/com_sh404sef/sh_Net_URL.class.php
on line
303
Strict Standards
: Non-static method JString::substr() should not be called statically, assuming $this from incompatible context in
/var/www/p5523/data/www/motocycle.ru/administrator/components/com_sh404sef/sh_Net_URL.class.php
on line
308
Strict Standards
: Non-static method JString::substr() should not be called statically, assuming $this from incompatible context in
/var/www/p5523/data/www/motocycle.ru/administrator/components/com_sh404sef/sh_Net_URL.class.php
on line
302
Strict Standards
: Non-static method JString::substr() should not be called statically, assuming $this from incompatible context in
/var/www/p5523/data/www/motocycle.ru/administrator/components/com_sh404sef/sh_Net_URL.class.php
on line
303
Strict Standards
: Non-static method JString::substr() should not be called statically, assuming $this from incompatible context in
/var/www/p5523/data/www/motocycle.ru/administrator/components/com_sh404sef/sh_Net_URL.class.php
on line
308
Strict Standards
: Non-static method JString::substr() should not be called statically, assuming $this from incompatible context in
/var/www/p5523/data/www/motocycle.ru/administrator/components/com_sh404sef/sh_Net_URL.class.php
on line
302
Strict Standards
: Non-static method JString::substr() should not be called statically, assuming $this from incompatible context in
/var/www/p5523/data/www/motocycle.ru/administrator/components/com_sh404sef/sh_Net_URL.class.php
on line
303
Strict Standards
: Non-static method JString::substr() should not be called statically, assuming $this from incompatible context in
/var/www/p5523/data/www/motocycle.ru/administrator/components/com_sh404sef/sh_Net_URL.class.php
on line
308
Strict Standards
: Non-static method JString::substr() should not be called statically, assuming $this from incompatible context in
/var/www/p5523/data/www/motocycle.ru/administrator/components/com_sh404sef/sh_Net_URL.class.php
on line
302
Strict Standards
: Non-static method JString::substr() should not be called statically, assuming $this from incompatible context in
/var/www/p5523/data/www/motocycle.ru/administrator/components/com_sh404sef/sh_Net_URL.class.php
on line
303
Strict Standards
: Non-static method JString::substr() should not be called statically, assuming $this from incompatible context in
/var/www/p5523/data/www/motocycle.ru/administrator/components/com_sh404sef/sh_Net_URL.class.php
on line
308
Strict Standards
: Non-static method JString::substr() should not be called statically, assuming $this from incompatible context in
/var/www/p5523/data/www/motocycle.ru/administrator/components/com_sh404sef/sh_Net_URL.class.php
on line
302
Strict Standards
: Non-static method JString::substr() should not be called statically, assuming $this from incompatible context in
/var/www/p5523/data/www/motocycle.ru/administrator/components/com_sh404sef/sh_Net_URL.class.php
on line
303
Strict Standards
: Non-static method JString::substr() should not be called statically, assuming $this from incompatible context in
/var/www/p5523/data/www/motocycle.ru/administrator/components/com_sh404sef/sh_Net_URL.class.php
on line
308
Strict Standards
: Non-static method shRouter::shGetConfig() should not be called statically in
/var/www/p5523/data/www/motocycle.ru/administrator/components/com_sh404sef/sh404sef.class.php
on line
1183
Strict Standards
: Non-static method shRouter::shGetConfig() should not be called statically in
/var/www/p5523/data/www/motocycle.ru/administrator/components/com_sh404sef/sh404sef.class.php
on line
869
Strict Standards
: Non-static method shRouter::shGetConfig() should not be called statically in
/var/www/p5523/data/www/motocycle.ru/components/com_sh404sef/shCache.php
on line
240
Strict Standards
: Non-static method shRouter::shGetConfig() should not be called statically in
/var/www/p5523/data/www/motocycle.ru/administrator/components/com_sh404sef/sh404sef.class.php
on line
1183
Strict Standards
: Non-static method JString::ltrim() should not be called statically in
/var/www/p5523/data/www/motocycle.ru/administrator/components/com_sh404sef/sh404sef.class.php
on line
1678
Strict Standards
: Non-static method JLoader::import() should not be called statically in
/var/www/p5523/data/www/motocycle.ru/libraries/loader.php
on line
186
Strict Standards
: Non-static method shRouter::shGetConfig() should not be called statically in
/var/www/p5523/data/www/motocycle.ru/administrator/components/com_sh404sef/sh404sef.class.php
on line
364
Strict Standards
: Non-static method JString::strpos() should not be called statically, assuming $this from incompatible context in
/var/www/p5523/data/www/motocycle.ru/modules/mod_news_show_gk3/helper.php
on line
625
Strict Standards
: Non-static method JString::strpos() should not be called statically, assuming $this from incompatible context in
/var/www/p5523/data/www/motocycle.ru/modules/mod_news_show_gk3/helper.php
on line
629
Strict Standards
: Non-static method JString::substr() should not be called statically, assuming $this from incompatible context in
/var/www/p5523/data/www/motocycle.ru/modules/mod_news_show_gk3/helper.php
on line
634
Strict Standards
: Non-static method JString::strlen() should not be called statically, assuming $this from incompatible context in
/var/www/p5523/data/www/motocycle.ru/modules/mod_news_show_gk3/helper.php
on line
799
Strict Standards
: Non-static method JString::strlen() should not be called statically, assuming $this from incompatible context in
/var/www/p5523/data/www/motocycle.ru/modules/mod_news_show_gk3/helper.php
on line
802
Strict Standards
: Non-static method JString::substr() should not be called statically, assuming $this from incompatible context in
/var/www/p5523/data/www/motocycle.ru/modules/mod_news_show_gk3/helper.php
on line
805
Strict Standards
: Non-static method JRoute::_() should not be called statically, assuming $this from incompatible context in
/var/www/p5523/data/www/motocycle.ru/modules/mod_news_show_gk3/helper.php
on line
602
Strict Standards
: Non-static method ContentHelperRoute::getArticleRoute() should not be called statically, assuming $this from incompatible context in
/var/www/p5523/data/www/motocycle.ru/modules/mod_news_show_gk3/helper.php
on line
602
Strict Standards
: Non-static method ContentHelperRoute::_findItem() should not be called statically, assuming $this from incompatible context in
/var/www/p5523/data/www/motocycle.ru/components/com_content/helpers/route.php
on line
49
Strict Standards
: Non-static method JComponentHelper::getComponent() should not be called statically, assuming $this from incompatible context in
/var/www/p5523/data/www/motocycle.ru/components/com_content/helpers/route.php
on line
97
Strict Standards
: Non-static method JComponentHelper::_load() should not be called statically, assuming $this from incompatible context in
/var/www/p5523/data/www/motocycle.ru/libraries/joomla/application/component/helper.php
on line
39
Strict Standards
: Non-static method JApplication::getMenu() should not be called statically, assuming $this from incompatible context in
/var/www/p5523/data/www/motocycle.ru/components/com_content/helpers/route.php
on line
99
Strict Standards
: Non-static method JLoader::import() should not be called statically in
/var/www/p5523/data/www/motocycle.ru/libraries/loader.php
on line
186
Strict Standards
: Non-static method JMenu::getInstance() should not be called statically, assuming $this from incompatible context in
/var/www/p5523/data/www/motocycle.ru/libraries/joomla/application/application.php
on line
720
Strict Standards
: Non-static method JError::isError() should not be called statically, assuming $this from incompatible context in
/var/www/p5523/data/www/motocycle.ru/libraries/joomla/application/application.php
on line
721
Strict Standards
: Non-static method JFactory::getApplication() should not be called statically, assuming $this from incompatible context in
/var/www/p5523/data/www/motocycle.ru/libraries/joomla/methods.php
on line
41
Strict Standards
: Non-static method JFactory::getConfig() should not be called statically, assuming $this from incompatible context in
/var/www/p5523/data/www/motocycle.ru/includes/application.php
on line
372
Strict Standards
: Non-static method JLoader::import() should not be called statically in
/var/www/p5523/data/www/motocycle.ru/libraries/loader.php
on line
186
Strict Standards
: Non-static method JRouter::getInstance() should not be called statically, assuming $this from incompatible context in
/var/www/p5523/data/www/motocycle.ru/libraries/joomla/application/application.php
on line
674
Strict Standards
: Non-static method JError::isError() should not be called statically, assuming $this from incompatible context in
/var/www/p5523/data/www/motocycle.ru/libraries/joomla/application/application.php
on line
675
Strict Standards
: Non-static method JString::trim() should not be called statically in
/var/www/p5523/data/www/motocycle.ru/administrator/components/com_sh404sef/sh404sef.class.php
on line
484
Strict Standards
: Non-static method JLoader::import() should not be called statically in
/var/www/p5523/data/www/motocycle.ru/libraries/loader.php
on line
186
Strict Standards
: Non-static method shRouter::shGetConfig() should not be called statically in
/var/www/p5523/data/www/motocycle.ru/administrator/components/com_sh404sef/sh404sef.class.php
on line
1183
Strict Standards
: Non-static method shRouter::shGetConfig() should not be called statically in
/var/www/p5523/data/www/motocycle.ru/administrator/components/com_sh404sef/sh404sef.class.php
on line
1230
Strict Standards
: Non-static method JString::substr() should not be called statically in
/var/www/p5523/data/www/motocycle.ru/administrator/components/com_sh404sef/sh404sef.class.php
on line
1241
Strict Standards
: Non-static method JFactory::getDBO() should not be called statically in
/var/www/p5523/data/www/motocycle.ru/administrator/components/com_sh404sef/sh404sef.class.php
on line
1250
Strict Standards
: Non-static method shRouter::shGetConfig() should not be called statically in
/var/www/p5523/data/www/motocycle.ru/administrator/components/com_sh404sef/sh404sef.class.php
on line
1183
Strict Standards
: Non-static method JString::substr() should not be called statically in
/var/www/p5523/data/www/motocycle.ru/administrator/components/com_sh404sef/sh404sef.class.php
on line
1273
Strict Standards
: Non-static method JString::ltrim() should not be called statically in
/var/www/p5523/data/www/motocycle.ru/administrator/components/com_sh404sef/sh404sef.class.php
on line
1307
Strict Standards
: Non-static method JLoader::import() should not be called statically in
/var/www/p5523/data/www/motocycle.ru/libraries/loader.php
on line
186
Strict Standards
: Non-static method JString::substr() should not be called statically in
/var/www/p5523/data/www/motocycle.ru/administrator/components/com_sh404sef/sh404sef.class.php
on line
1312
Strict Standards
: Non-static method JFactory::getDBO() should not be called statically in
/var/www/p5523/data/www/motocycle.ru/administrator/components/com_sh404sef/sh404sef.class.php
on line
980
Strict Standards
: Non-static method JString::substr() should not be called statically in
/var/www/p5523/data/www/motocycle.ru/administrator/components/com_sh404sef/sh404sef.class.php
on line
1357
Strict Standards
: Non-static method JString::substr() should not be called statically in
/var/www/p5523/data/www/motocycle.ru/administrator/components/com_sh404sef/sh404sef.class.php
on line
1370
Strict Standards
: Non-static method JFactory::getDBO() should not be called statically in
/var/www/p5523/data/www/motocycle.ru/administrator/components/com_sh404sef/sh404sef.class.php
on line
980
Strict Standards
: Non-static method JString::substr() should not be called statically, assuming $this from incompatible context in
/var/www/p5523/data/www/motocycle.ru/administrator/components/com_sh404sef/sh_Net_URL.class.php
on line
302
Strict Standards
: Non-static method JString::substr() should not be called statically, assuming $this from incompatible context in
/var/www/p5523/data/www/motocycle.ru/administrator/components/com_sh404sef/sh_Net_URL.class.php
on line
303
Strict Standards
: Non-static method JString::substr() should not be called statically, assuming $this from incompatible context in
/var/www/p5523/data/www/motocycle.ru/administrator/components/com_sh404sef/sh_Net_URL.class.php
on line
308
Strict Standards
: Non-static method JString::substr() should not be called statically, assuming $this from incompatible context in
/var/www/p5523/data/www/motocycle.ru/administrator/components/com_sh404sef/sh_Net_URL.class.php
on line
302
Strict Standards
: Non-static method JString::substr() should not be called statically, assuming $this from incompatible context in
/var/www/p5523/data/www/motocycle.ru/administrator/components/com_sh404sef/sh_Net_URL.class.php
on line
303
Strict Standards
: Non-static method JString::substr() should not be called statically, assuming $this from incompatible context in
/var/www/p5523/data/www/motocycle.ru/administrator/components/com_sh404sef/sh_Net_URL.class.php
on line
308
Strict Standards
: Non-static method JString::substr() should not be called statically, assuming $this from incompatible context in
/var/www/p5523/data/www/motocycle.ru/administrator/components/com_sh404sef/sh_Net_URL.class.php
on line
302
Strict Standards
: Non-static method JString::substr() should not be called statically, assuming $this from incompatible context in
/var/www/p5523/data/www/motocycle.ru/administrator/components/com_sh404sef/sh_Net_URL.class.php
on line
303
Strict Standards
: Non-static method JString::substr() should not be called statically, assuming $this from incompatible context in
/var/www/p5523/data/www/motocycle.ru/administrator/components/com_sh404sef/sh_Net_URL.class.php
on line
308
Strict Standards
: Non-static method JString::substr() should not be called statically, assuming $this from incompatible context in
/var/www/p5523/data/www/motocycle.ru/administrator/components/com_sh404sef/sh_Net_URL.class.php
on line
302
Strict Standards
: Non-static method JString::substr() should not be called statically, assuming $this from incompatible context in
/var/www/p5523/data/www/motocycle.ru/administrator/components/com_sh404sef/sh_Net_URL.class.php
on line
303
Strict Standards
: Non-static method JString::substr() should not be called statically, assuming $this from incompatible context in
/var/www/p5523/data/www/motocycle.ru/administrator/components/com_sh404sef/sh_Net_URL.class.php
on line
308
Strict Standards
: Non-static method JString::substr() should not be called statically, assuming $this from incompatible context in
/var/www/p5523/data/www/motocycle.ru/administrator/components/com_sh404sef/sh_Net_URL.class.php
on line
302
Strict Standards
: Non-static method JString::substr() should not be called statically, assuming $this from incompatible context in
/var/www/p5523/data/www/motocycle.ru/administrator/components/com_sh404sef/sh_Net_URL.class.php
on line
303
Strict Standards
: Non-static method JString::substr() should not be called statically, assuming $this from incompatible context in
/var/www/p5523/data/www/motocycle.ru/administrator/components/com_sh404sef/sh_Net_URL.class.php
on line
308
Strict Standards
: Non-static method JString::substr() should not be called statically, assuming $this from incompatible context in
/var/www/p5523/data/www/motocycle.ru/administrator/components/com_sh404sef/sh_Net_URL.class.php
on line
302
Strict Standards
: Non-static method JString::substr() should not be called statically, assuming $this from incompatible context in
/var/www/p5523/data/www/motocycle.ru/administrator/components/com_sh404sef/sh_Net_URL.class.php
on line
303
Strict Standards
: Non-static method JString::substr() should not be called statically, assuming $this from incompatible context in
/var/www/p5523/data/www/motocycle.ru/administrator/components/com_sh404sef/sh_Net_URL.class.php
on line
308
Strict Standards
: Non-static method JString::substr() should not be called statically, assuming $this from incompatible context in
/var/www/p5523/data/www/motocycle.ru/administrator/components/com_sh404sef/sh_Net_URL.class.php
on line
302
Strict Standards
: Non-static method JString::substr() should not be called statically, assuming $this from incompatible context in
/var/www/p5523/data/www/motocycle.ru/administrator/components/com_sh404sef/sh_Net_URL.class.php
on line
303
Strict Standards
: Non-static method JString::substr() should not be called statically, assuming $this from incompatible context in
/var/www/p5523/data/www/motocycle.ru/administrator/components/com_sh404sef/sh_Net_URL.class.php
on line
308
Strict Standards
: Non-static method JString::substr() should not be called statically, assuming $this from incompatible context in
/var/www/p5523/data/www/motocycle.ru/administrator/components/com_sh404sef/sh_Net_URL.class.php
on line
302
Strict Standards
: Non-static method JString::substr() should not be called statically, assuming $this from incompatible context in
/var/www/p5523/data/www/motocycle.ru/administrator/components/com_sh404sef/sh_Net_URL.class.php
on line
303
Strict Standards
: Non-static method JString::substr() should not be called statically, assuming $this from incompatible context in
/var/www/p5523/data/www/motocycle.ru/administrator/components/com_sh404sef/sh_Net_URL.class.php
on line
308
Strict Standards
: Non-static method JString::substr() should not be called statically, assuming $this from incompatible context in
/var/www/p5523/data/www/motocycle.ru/administrator/components/com_sh404sef/sh_Net_URL.class.php
on line
302
Strict Standards
: Non-static method JString::substr() should not be called statically, assuming $this from incompatible context in
/var/www/p5523/data/www/motocycle.ru/administrator/components/com_sh404sef/sh_Net_URL.class.php
on line
303
Strict Standards
: Non-static method JString::substr() should not be called statically, assuming $this from incompatible context in
/var/www/p5523/data/www/motocycle.ru/administrator/components/com_sh404sef/sh_Net_URL.class.php
on line
308
Strict Standards
: Non-static method JString::substr() should not be called statically, assuming $this from incompatible context in
/var/www/p5523/data/www/motocycle.ru/administrator/components/com_sh404sef/sh_Net_URL.class.php
on line
302
Strict Standards
: Non-static method JString::substr() should not be called statically, assuming $this from incompatible context in
/var/www/p5523/data/www/motocycle.ru/administrator/components/com_sh404sef/sh_Net_URL.class.php
on line
303
Strict Standards
: Non-static method JString::substr() should not be called statically, assuming $this from incompatible context in
/var/www/p5523/data/www/motocycle.ru/administrator/components/com_sh404sef/sh_Net_URL.class.php
on line
308
Strict Standards
: Non-static method JString::substr() should not be called statically, assuming $this from incompatible context in
/var/www/p5523/data/www/motocycle.ru/administrator/components/com_sh404sef/sh_Net_URL.class.php
on line
302
Strict Standards
: Non-static method JString::substr() should not be called statically, assuming $this from incompatible context in
/var/www/p5523/data/www/motocycle.ru/administrator/components/com_sh404sef/sh_Net_URL.class.php
on line
303
Strict Standards
: Non-static method JString::substr() should not be called statically, assuming $this from incompatible context in
/var/www/p5523/data/www/motocycle.ru/administrator/components/com_sh404sef/sh_Net_URL.class.php
on line
308
Strict Standards
: Non-static method JString::substr() should not be called statically, assuming $this from incompatible context in
/var/www/p5523/data/www/motocycle.ru/administrator/components/com_sh404sef/sh_Net_URL.class.php
on line
302
Strict Standards
: Non-static method JString::substr() should not be called statically, assuming $this from incompatible context in
/var/www/p5523/data/www/motocycle.ru/administrator/components/com_sh404sef/sh_Net_URL.class.php
on line
303
Strict Standards
: Non-static method JString::substr() should not be called statically, assuming $this from incompatible context in
/var/www/p5523/data/www/motocycle.ru/administrator/components/com_sh404sef/sh_Net_URL.class.php
on line
308
Strict Standards
: Non-static method shRouter::shGetConfig() should not be called statically in
/var/www/p5523/data/www/motocycle.ru/administrator/components/com_sh404sef/sh404sef.class.php
on line
1183
Strict Standards
: Non-static method JString::rtrim() should not be called statically in
/var/www/p5523/data/www/motocycle.ru/administrator/components/com_sh404sef/sh404sef.class.php
on line
2033
Strict Standards
: Non-static method JLoader::import() should not be called statically in
/var/www/p5523/data/www/motocycle.ru/libraries/loader.php
on line
186
Strict Standards
: Non-static method shRouter::shGetConfig() should not be called statically in
/var/www/p5523/data/www/motocycle.ru/administrator/components/com_sh404sef/sh404sef.class.php
on line
869
Strict Standards
: Non-static method shRouter::shGetConfig() should not be called statically in
/var/www/p5523/data/www/motocycle.ru/components/com_sh404sef/shCache.php
on line
240
Strict Standards
: Non-static method shRouter::shGetConfig() should not be called statically in
/var/www/p5523/data/www/motocycle.ru/administrator/components/com_sh404sef/sh404sef.class.php
on line
1183
Strict Standards
: Non-static method JString::ltrim() should not be called statically in
/var/www/p5523/data/www/motocycle.ru/administrator/components/com_sh404sef/sh404sef.class.php
on line
1678
Strict Standards
: Non-static method JLoader::import() should not be called statically in
/var/www/p5523/data/www/motocycle.ru/libraries/loader.php
on line
186
Strict Standards
: Non-static method shRouter::shGetConfig() should not be called statically in
/var/www/p5523/data/www/motocycle.ru/administrator/components/com_sh404sef/sh404sef.class.php
on line
364
Strict Standards
: Non-static method JString::substr() should not be called statically, assuming $this from incompatible context in
/var/www/p5523/data/www/motocycle.ru/modules/mod_news_show_gk3/helper.php
on line
602
Strict Standards
: Non-static method JRoute::_() should not be called statically, assuming $this from incompatible context in
/var/www/p5523/data/www/motocycle.ru/modules/mod_news_show_gk3/helper.php
on line
620
Strict Standards
: Non-static method ContentHelperRoute::getArticleRoute() should not be called statically, assuming $this from incompatible context in
/var/www/p5523/data/www/motocycle.ru/modules/mod_news_show_gk3/helper.php
on line
620
Strict Standards
: Non-static method ContentHelperRoute::_findItem() should not be called statically, assuming $this from incompatible context in
/var/www/p5523/data/www/motocycle.ru/components/com_content/helpers/route.php
on line
49
Strict Standards
: Non-static method JComponentHelper::getComponent() should not be called statically, assuming $this from incompatible context in
/var/www/p5523/data/www/motocycle.ru/components/com_content/helpers/route.php
on line
97
Strict Standards
: Non-static method JComponentHelper::_load() should not be called statically, assuming $this from incompatible context in
/var/www/p5523/data/www/motocycle.ru/libraries/joomla/application/component/helper.php
on line
39
Strict Standards
: Non-static method JApplication::getMenu() should not be called statically, assuming $this from incompatible context in
/var/www/p5523/data/www/motocycle.ru/components/com_content/helpers/route.php
on line
99
Strict Standards
: Non-static method JLoader::import() should not be called statically in
/var/www/p5523/data/www/motocycle.ru/libraries/loader.php
on line
186
Strict Standards
: Non-static method JMenu::getInstance() should not be called statically, assuming $this from incompatible context in
/var/www/p5523/data/www/motocycle.ru/libraries/joomla/application/application.php
on line
720
Strict Standards
: Non-static method JError::isError() should not be called statically, assuming $this from incompatible context in
/var/www/p5523/data/www/motocycle.ru/libraries/joomla/application/application.php
on line
721
Strict Standards
: Non-static method JFactory::getApplication() should not be called statically, assuming $this from incompatible context in
/var/www/p5523/data/www/motocycle.ru/libraries/joomla/methods.php
on line
41
Strict Standards
: Non-static method JFactory::getConfig() should not be called statically, assuming $this from incompatible context in
/var/www/p5523/data/www/motocycle.ru/includes/application.php
on line
372
Strict Standards
: Non-static method JLoader::import() should not be called statically in
/var/www/p5523/data/www/motocycle.ru/libraries/loader.php
on line
186
Strict Standards
: Non-static method JRouter::getInstance() should not be called statically, assuming $this from incompatible context in
/var/www/p5523/data/www/motocycle.ru/libraries/joomla/application/application.php
on line
674
Strict Standards
: Non-static method JError::isError() should not be called statically, assuming $this from incompatible context in
/var/www/p5523/data/www/motocycle.ru/libraries/joomla/application/application.php
on line
675
Strict Standards
: Non-static method JString::trim() should not be called statically in
/var/www/p5523/data/www/motocycle.ru/administrator/components/com_sh404sef/sh404sef.class.php
on line
484
Strict Standards
: Non-static method JLoader::import() should not be called statically in
/var/www/p5523/data/www/motocycle.ru/libraries/loader.php
on line
186
Strict Standards
: Non-static method shRouter::shGetConfig() should not be called statically in
/var/www/p5523/data/www/motocycle.ru/administrator/components/com_sh404sef/sh404sef.class.php
on line
1183
Strict Standards
: Non-static method shRouter::shGetConfig() should not be called statically in
/var/www/p5523/data/www/motocycle.ru/administrator/components/com_sh404sef/sh404sef.class.php
on line
1230
Strict Standards
: Non-static method JString::substr() should not be called statically in
/var/www/p5523/data/www/motocycle.ru/administrator/components/com_sh404sef/sh404sef.class.php
on line
1241
Strict Standards
: Non-static method JFactory::getDBO() should not be called statically in
/var/www/p5523/data/www/motocycle.ru/administrator/components/com_sh404sef/sh404sef.class.php
on line
1250
Strict Standards
: Non-static method shRouter::shGetConfig() should not be called statically in
/var/www/p5523/data/www/motocycle.ru/administrator/components/com_sh404sef/sh404sef.class.php
on line
1183
Strict Standards
: Non-static method JString::substr() should not be called statically in
/var/www/p5523/data/www/motocycle.ru/administrator/components/com_sh404sef/sh404sef.class.php
on line
1273
Strict Standards
: Non-static method JString::ltrim() should not be called statically in
/var/www/p5523/data/www/motocycle.ru/administrator/components/com_sh404sef/sh404sef.class.php
on line
1307
Strict Standards
: Non-static method JLoader::import() should not be called statically in
/var/www/p5523/data/www/motocycle.ru/libraries/loader.php
on line
186
Strict Standards
: Non-static method JString::substr() should not be called statically in
/var/www/p5523/data/www/motocycle.ru/administrator/components/com_sh404sef/sh404sef.class.php
on line
1312
Strict Standards
: Non-static method JFactory::getDBO() should not be called statically in
/var/www/p5523/data/www/motocycle.ru/administrator/components/com_sh404sef/sh404sef.class.php
on line
980
Strict Standards
: Non-static method JString::substr() should not be called statically in
/var/www/p5523/data/www/motocycle.ru/administrator/components/com_sh404sef/sh404sef.class.php
on line
1357
Strict Standards
: Non-static method JString::substr() should not be called statically in
/var/www/p5523/data/www/motocycle.ru/administrator/components/com_sh404sef/sh404sef.class.php
on line
1370
Strict Standards
: Non-static method JFactory::getDBO() should not be called statically in
/var/www/p5523/data/www/motocycle.ru/administrator/components/com_sh404sef/sh404sef.class.php
on line
980
Strict Standards
: Non-static method JString::substr() should not be called statically, assuming $this from incompatible context in
/var/www/p5523/data/www/motocycle.ru/administrator/components/com_sh404sef/sh_Net_URL.class.php
on line
302
Strict Standards
: Non-static method JString::substr() should not be called statically, assuming $this from incompatible context in
/var/www/p5523/data/www/motocycle.ru/administrator/components/com_sh404sef/sh_Net_URL.class.php
on line
303
Strict Standards
: Non-static method JString::substr() should not be called statically, assuming $this from incompatible context in
/var/www/p5523/data/www/motocycle.ru/administrator/components/com_sh404sef/sh_Net_URL.class.php
on line
308
Strict Standards
: Non-static method JString::substr() should not be called statically, assuming $this from incompatible context in
/var/www/p5523/data/www/motocycle.ru/administrator/components/com_sh404sef/sh_Net_URL.class.php
on line
302
Strict Standards
: Non-static method JString::substr() should not be called statically, assuming $this from incompatible context in
/var/www/p5523/data/www/motocycle.ru/administrator/components/com_sh404sef/sh_Net_URL.class.php
on line
303
Strict Standards
: Non-static method JString::substr() should not be called statically, assuming $this from incompatible context in
/var/www/p5523/data/www/motocycle.ru/administrator/components/com_sh404sef/sh_Net_URL.class.php
on line
308
Strict Standards
: Non-static method JString::substr() should not be called statically, assuming $this from incompatible context in
/var/www/p5523/data/www/motocycle.ru/administrator/components/com_sh404sef/sh_Net_URL.class.php
on line
302
Strict Standards
: Non-static method JString::substr() should not be called statically, assuming $this from incompatible context in
/var/www/p5523/data/www/motocycle.ru/administrator/components/com_sh404sef/sh_Net_URL.class.php
on line
303
Strict Standards
: Non-static method JString::substr() should not be called statically, assuming $this from incompatible context in
/var/www/p5523/data/www/motocycle.ru/administrator/components/com_sh404sef/sh_Net_URL.class.php
on line
308
Strict Standards
: Non-static method JString::substr() should not be called statically, assuming $this from incompatible context in
/var/www/p5523/data/www/motocycle.ru/administrator/components/com_sh404sef/sh_Net_URL.class.php
on line
302
Strict Standards
: Non-static method JString::substr() should not be called statically, assuming $this from incompatible context in
/var/www/p5523/data/www/motocycle.ru/administrator/components/com_sh404sef/sh_Net_URL.class.php
on line
303
Strict Standards
: Non-static method JString::substr() should not be called statically, assuming $this from incompatible context in
/var/www/p5523/data/www/motocycle.ru/administrator/components/com_sh404sef/sh_Net_URL.class.php
on line
308
Strict Standards
: Non-static method JString::substr() should not be called statically, assuming $this from incompatible context in
/var/www/p5523/data/www/motocycle.ru/administrator/components/com_sh404sef/sh_Net_URL.class.php
on line
302
Strict Standards
: Non-static method JString::substr() should not be called statically, assuming $this from incompatible context in
/var/www/p5523/data/www/motocycle.ru/administrator/components/com_sh404sef/sh_Net_URL.class.php
on line
303
Strict Standards
: Non-static method JString::substr() should not be called statically, assuming $this from incompatible context in
/var/www/p5523/data/www/motocycle.ru/administrator/components/com_sh404sef/sh_Net_URL.class.php
on line
308
Strict Standards
: Non-static method JString::substr() should not be called statically, assuming $this from incompatible context in
/var/www/p5523/data/www/motocycle.ru/administrator/components/com_sh404sef/sh_Net_URL.class.php
on line
302
Strict Standards
: Non-static method JString::substr() should not be called statically, assuming $this from incompatible context in
/var/www/p5523/data/www/motocycle.ru/administrator/components/com_sh404sef/sh_Net_URL.class.php
on line
303
Strict Standards
: Non-static method JString::substr() should not be called statically, assuming $this from incompatible context in
/var/www/p5523/data/www/motocycle.ru/administrator/components/com_sh404sef/sh_Net_URL.class.php
on line
308
Strict Standards
: Non-static method JString::substr() should not be called statically, assuming $this from incompatible context in
/var/www/p5523/data/www/motocycle.ru/administrator/components/com_sh404sef/sh_Net_URL.class.php
on line
302
Strict Standards
: Non-static method JString::substr() should not be called statically, assuming $this from incompatible context in
/var/www/p5523/data/www/motocycle.ru/administrator/components/com_sh404sef/sh_Net_URL.class.php
on line
303
Strict Standards
: Non-static method JString::substr() should not be called statically, assuming $this from incompatible context in
/var/www/p5523/data/www/motocycle.ru/administrator/components/com_sh404sef/sh_Net_URL.class.php
on line
308
Strict Standards
: Non-static method JString::substr() should not be called statically, assuming $this from incompatible context in
/var/www/p5523/data/www/motocycle.ru/administrator/components/com_sh404sef/sh_Net_URL.class.php
on line
302
Strict Standards
: Non-static method JString::substr() should not be called statically, assuming $this from incompatible context in
/var/www/p5523/data/www/motocycle.ru/administrator/components/com_sh404sef/sh_Net_URL.class.php
on line
303
Strict Standards
: Non-static method JString::substr() should not be called statically, assuming $this from incompatible context in
/var/www/p5523/data/www/motocycle.ru/administrator/components/com_sh404sef/sh_Net_URL.class.php
on line
308
Strict Standards
: Non-static method JString::substr() should not be called statically, assuming $this from incompatible context in
/var/www/p5523/data/www/motocycle.ru/administrator/components/com_sh404sef/sh_Net_URL.class.php
on line
302
Strict Standards
: Non-static method JString::substr() should not be called statically, assuming $this from incompatible context in
/var/www/p5523/data/www/motocycle.ru/administrator/components/com_sh404sef/sh_Net_URL.class.php
on line
303
Strict Standards
: Non-static method JString::substr() should not be called statically, assuming $this from incompatible context in
/var/www/p5523/data/www/motocycle.ru/administrator/components/com_sh404sef/sh_Net_URL.class.php
on line
308
Strict Standards
: Non-static method JString::substr() should not be called statically, assuming $this from incompatible context in
/var/www/p5523/data/www/motocycle.ru/administrator/components/com_sh404sef/sh_Net_URL.class.php
on line
302
Strict Standards
: Non-static method JString::substr() should not be called statically, assuming $this from incompatible context in
/var/www/p5523/data/www/motocycle.ru/administrator/components/com_sh404sef/sh_Net_URL.class.php
on line
303
Strict Standards
: Non-static method JString::substr() should not be called statically, assuming $this from incompatible context in
/var/www/p5523/data/www/motocycle.ru/administrator/components/com_sh404sef/sh_Net_URL.class.php
on line
308
Strict Standards
: Non-static method JString::substr() should not be called statically, assuming $this from incompatible context in
/var/www/p5523/data/www/motocycle.ru/administrator/components/com_sh404sef/sh_Net_URL.class.php
on line
302
Strict Standards
: Non-static method JString::substr() should not be called statically, assuming $this from incompatible context in
/var/www/p5523/data/www/motocycle.ru/administrator/components/com_sh404sef/sh_Net_URL.class.php
on line
303
Strict Standards
: Non-static method JString::substr() should not be called statically, assuming $this from incompatible context in
/var/www/p5523/data/www/motocycle.ru/administrator/components/com_sh404sef/sh_Net_URL.class.php
on line
308
Strict Standards
: Non-static method JString::substr() should not be called statically, assuming $this from incompatible context in
/var/www/p5523/data/www/motocycle.ru/administrator/components/com_sh404sef/sh_Net_URL.class.php
on line
302
Strict Standards
: Non-static method JString::substr() should not be called statically, assuming $this from incompatible context in
/var/www/p5523/data/www/motocycle.ru/administrator/components/com_sh404sef/sh_Net_URL.class.php
on line
303
Strict Standards
: Non-static method JString::substr() should not be called statically, assuming $this from incompatible context in
/var/www/p5523/data/www/motocycle.ru/administrator/components/com_sh404sef/sh_Net_URL.class.php
on line
308
Strict Standards
: Non-static method shRouter::shGetConfig() should not be called statically in
/var/www/p5523/data/www/motocycle.ru/administrator/components/com_sh404sef/sh404sef.class.php
on line
1183
Strict Standards
: Non-static method shRouter::shGetConfig() should not be called statically in
/var/www/p5523/data/www/motocycle.ru/administrator/components/com_sh404sef/sh404sef.class.php
on line
869
Strict Standards
: Non-static method shRouter::shGetConfig() should not be called statically in
/var/www/p5523/data/www/motocycle.ru/components/com_sh404sef/shCache.php
on line
240
Strict Standards
: Non-static method shRouter::shGetConfig() should not be called statically in
/var/www/p5523/data/www/motocycle.ru/administrator/components/com_sh404sef/sh404sef.class.php
on line
1183
Strict Standards
: Non-static method JString::ltrim() should not be called statically in
/var/www/p5523/data/www/motocycle.ru/administrator/components/com_sh404sef/sh404sef.class.php
on line
1678
Strict Standards
: Non-static method JLoader::import() should not be called statically in
/var/www/p5523/data/www/motocycle.ru/libraries/loader.php
on line
186
Strict Standards
: Non-static method shRouter::shGetConfig() should not be called statically in
/var/www/p5523/data/www/motocycle.ru/administrator/components/com_sh404sef/sh404sef.class.php
on line
364
Strict Standards
: Non-static method JString::strpos() should not be called statically, assuming $this from incompatible context in
/var/www/p5523/data/www/motocycle.ru/modules/mod_news_show_gk3/helper.php
on line
625
Strict Standards
: Non-static method JString::strpos() should not be called statically, assuming $this from incompatible context in
/var/www/p5523/data/www/motocycle.ru/modules/mod_news_show_gk3/helper.php
on line
629
Strict Standards
: Non-static method JString::substr() should not be called statically, assuming $this from incompatible context in
/var/www/p5523/data/www/motocycle.ru/modules/mod_news_show_gk3/helper.php
on line
634
Strict Standards
: Non-static method JString::strlen() should not be called statically, assuming $this from incompatible context in
/var/www/p5523/data/www/motocycle.ru/modules/mod_news_show_gk3/helper.php
on line
799
Strict Standards
: Non-static method JString::strlen() should not be called statically, assuming $this from incompatible context in
/var/www/p5523/data/www/motocycle.ru/modules/mod_news_show_gk3/helper.php
on line
802
Strict Standards
: Non-static method JString::substr() should not be called statically, assuming $this from incompatible context in
/var/www/p5523/data/www/motocycle.ru/modules/mod_news_show_gk3/helper.php
on line
805
Strict Standards
: Non-static method JFactory::getDocument() should not be called statically, assuming $this from incompatible context in
/var/www/p5523/data/www/motocycle.ru/modules/mod_news_show_gk3/helper.php
on line
952
Strict Standards
: Non-static method JURI::getInstance() should not be called statically, assuming $this from incompatible context in
/var/www/p5523/data/www/motocycle.ru/modules/mod_news_show_gk3/helper.php
on line
953
Strict Standards
: Non-static method JModuleHelper::getLayoutPath() should not be called statically, assuming $this from incompatible context in
/var/www/p5523/data/www/motocycle.ru/modules/mod_news_show_gk3/helper.php
on line
1017
| | |
| --- | --- |
| Для Марка Маркеса первый день тестов в Монтмело (Испания) стал особенным, так как именно тогда он ... | Кейси Стоунер - самая одиозная и неоднозначная личность в чемпионате мира по MotoGP. Можно долго р... |
| Нынешний лидер Чемпионата, Хорхе Лоренцо, говорит, что будет интересно посмотреть, как в 2011 году... | Алекс де Анджелис готов к своему второму уикенду в MotoGP. Для него этот насыщенный сезон начался ... |
Strict Standards
: Non-static method JModuleHelper::getModules() should not be called statically, assuming $this from incompatible context in
/var/www/p5523/data/www/motocycle.ru/libraries/joomla/document/html/html.php
on line
272
Strict Standards
: Non-static method JModuleHelper::_load() should not be called statically, assuming $this from incompatible context in
/var/www/p5523/data/www/motocycle.ru/libraries/joomla/application/module/helper.php
on line
88

Strict Standards: Non-static method JModuleHelper::getModules() should not be called statically, assuming $this from incompatible context in /var/www/p5523/data/www/motocycle.ru/libraries/joomla/document/html/html.php on line 272

Strict Standards: Non-static method JModuleHelper::_load() should not be called statically, assuming $this from incompatible context in /var/www/p5523/data/www/motocycle.ru/libraries/joomla/application/module/helper.php on line 88